Thermaltake Toughpower DPS G RGB 650W Gold
The Thermaltake Toughpower DPS G RGB 650W Gold is the world's first PSU pre-installed with a patented RGB fan that incorporate various high-tech components, leading technology and Eco-friendly commendations. Featuring 80 PLUS Gold certification with and flat cable, Toughpower DPS G RGB Gold Series adopts the highest quality components and fully modular design that always accommodate any mainstream build under any circumstance.

The combination of Toughpower DPS G RGB Gold and three intelligent platforms – DPS G PC APP 3.0, DPS G Smart Power Management (SPM) Cloud 1.0, and DPS G Mobile APP 1.0 helps users not just monitor smart power supply units, but also save the energy, reduce CO2 emission, and eventually protect the Earth.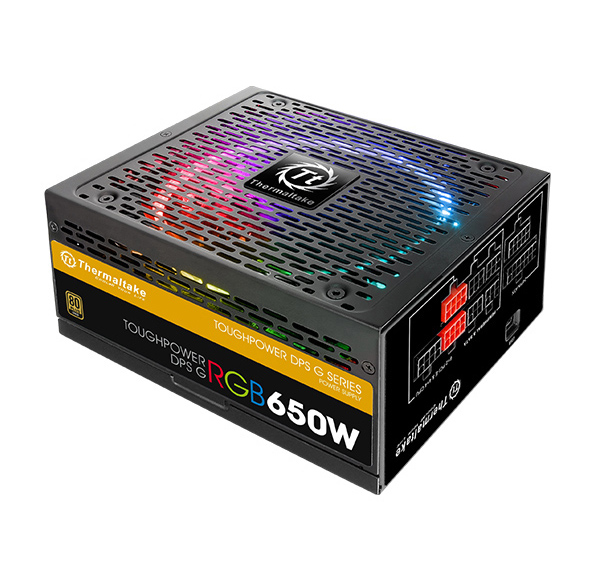 What is Smart Power Management (SPM)?
What is Smart Power Management (SPM)? Smart Power Management (SPM) is a cloud-based software that seamlessly integrates three intelligent platforms – DPS G PC APP 3.0, DPS G Smart Power Management Cloud 1.0 and DPS G Mobile APP 1.0 – and compiles key statistics about your PC into detailed charts and breakdowns for your instant PC status view and management. With easy access to SPM through your PC or mobile devices, whether you are outside or indoors, enjoy taking full control of your build anytime, anywhere!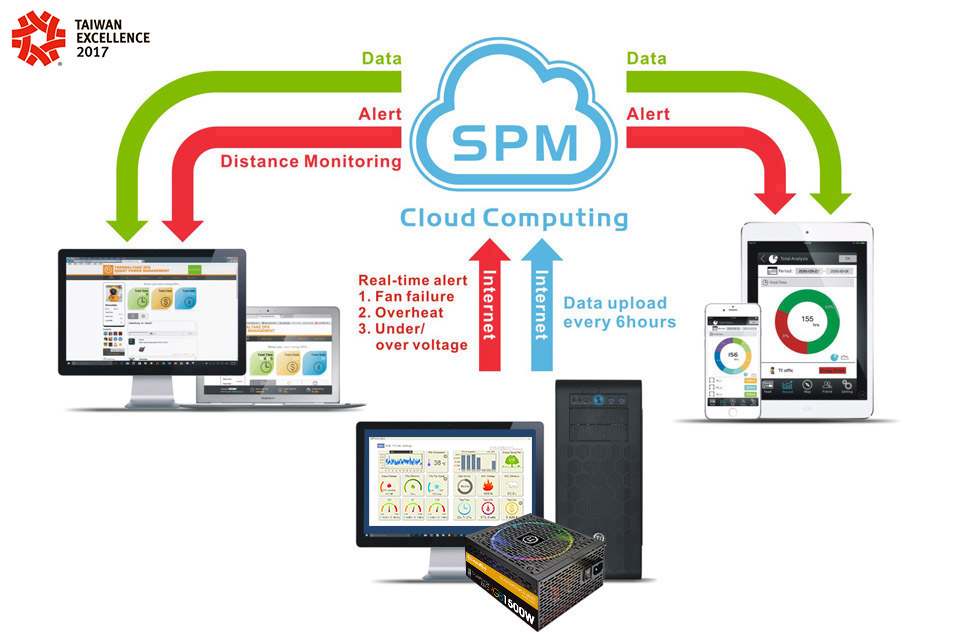 Warning Alert
The SPM platform comes with real-time warning alert function, which will appear on your DPS G Mobile APP/DPS G Smart Power Management Cloud and also your email when fan failure, PSU over temperature (over 140℉/60℃), or abnormal voltage level (over/under 5% of normal level) occurs. Then users can shut down their PC remotely to avoid further damage.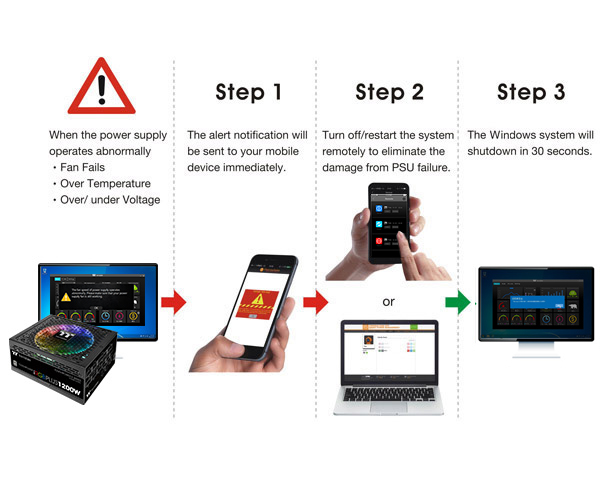 Schedule Shutdown
Save PC energy and electricity cost by scheduling your PC to shutdown at any time you want through DPS G Mobile APP or DPS G Smart Power Management Cloud.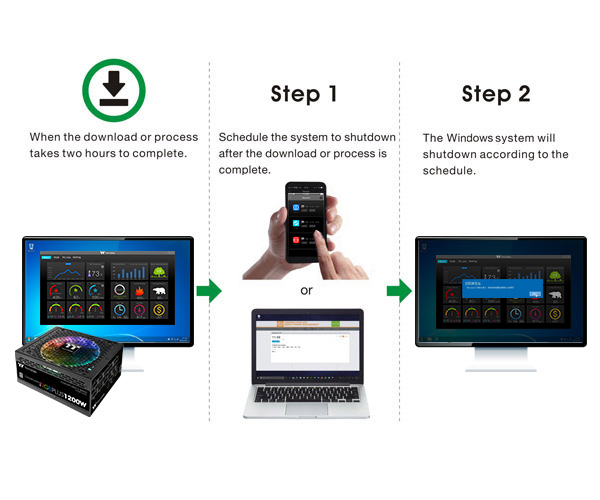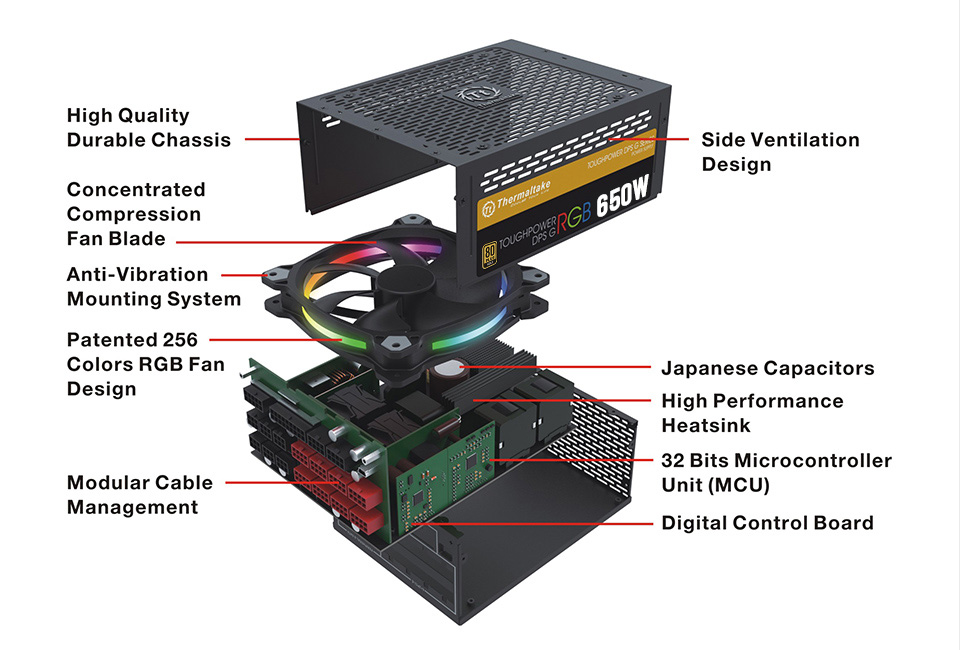 ※The photo is for reference.
Patented RGB Fan
The first RGB PSU series introduced by Thermaltake install with a patented RGB multi-colored 140mm fan. Users can freely adjust fan speed as well as fan colors digitally through DPS G PC App. The app features four lighting modes: Single Color, Random Color, RGB Cycle, and Blink. The color and brightness uniformity of the multicolored LED ring is visible from all directions and adds style to the chassis.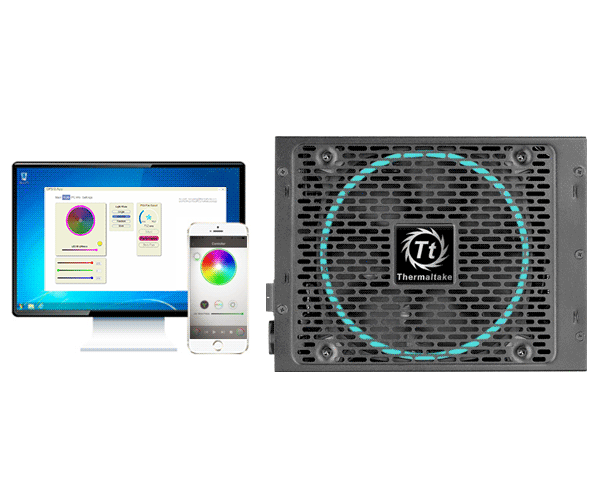 Power Supply Fan Face-Up Placement for Better Cooling
With the face-up placement of the fan, users can freely gaze upon their patented RGB fan and at the same time obtaining additional performance by using the fan as a additional exhaust mechanism, repelling unwanted heat from your chassis. As the thermal image testing shown, the temperature of PSU and computer system will decrease around 3°C (5.4 °F) by placing PSU face-up.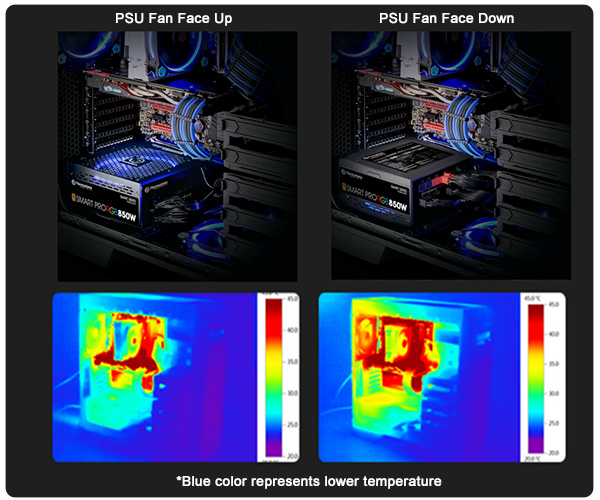 Concentrated Compression Fan Blade
The fan blade is designed for high static pressure requirements of demanding applications; the concentrated compression blade is engineered to focus the weaker, inner circle of air outward, allowing the outer section to pressurize the air. The fan blades are optimized to enhance static pressure for an impressive cooling performance. Hydraulic bearings for silent operation guarantee ultra-low noise, and the anti-vibration mounting system strengthens the product's stability during operation. Moreover, In-mold injection anti-vibration rubber pads provide hassle-free usage for 80% protection coverage, including all four corners.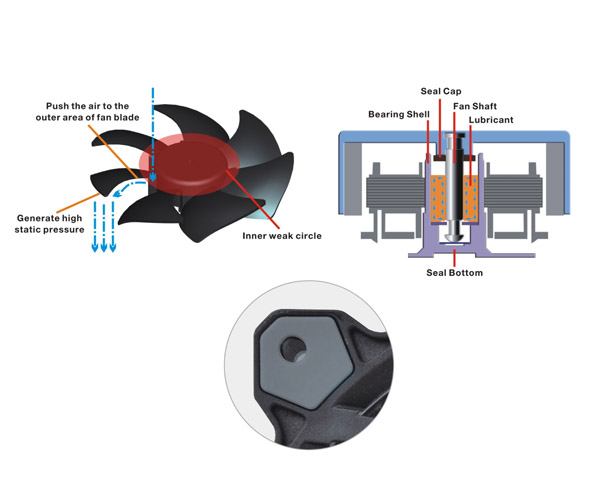 100% High Quality Japanese Capacitors
The Toughpower DPS G RGB 650W Gold features 100% high quality Japanese brand capacitors, which greatly improves the durability and offers the highest stability and reliability.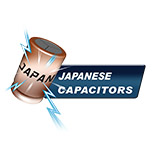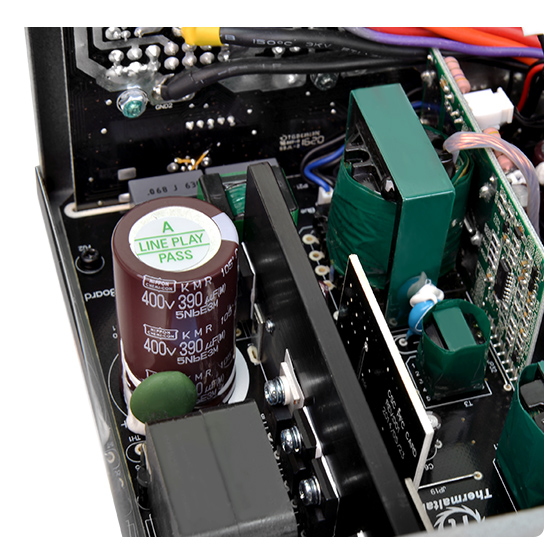 Fully Modular Cable Design
Fully modular power supply offers cable selection for users while powering the system at an advantageous voltage. The flat cables can make cable management easier, reduce clutter and increase airflow inside the chassis.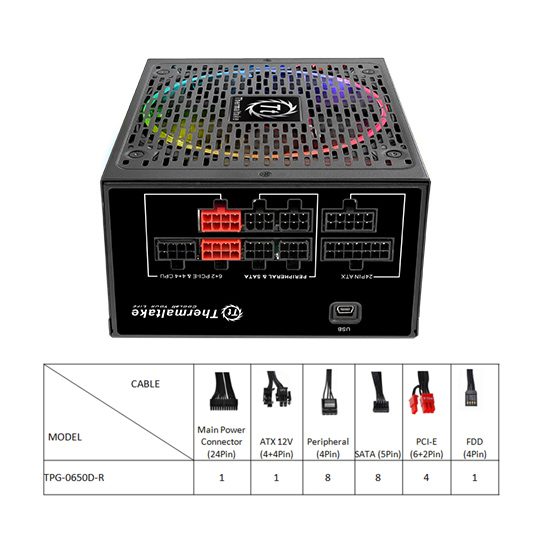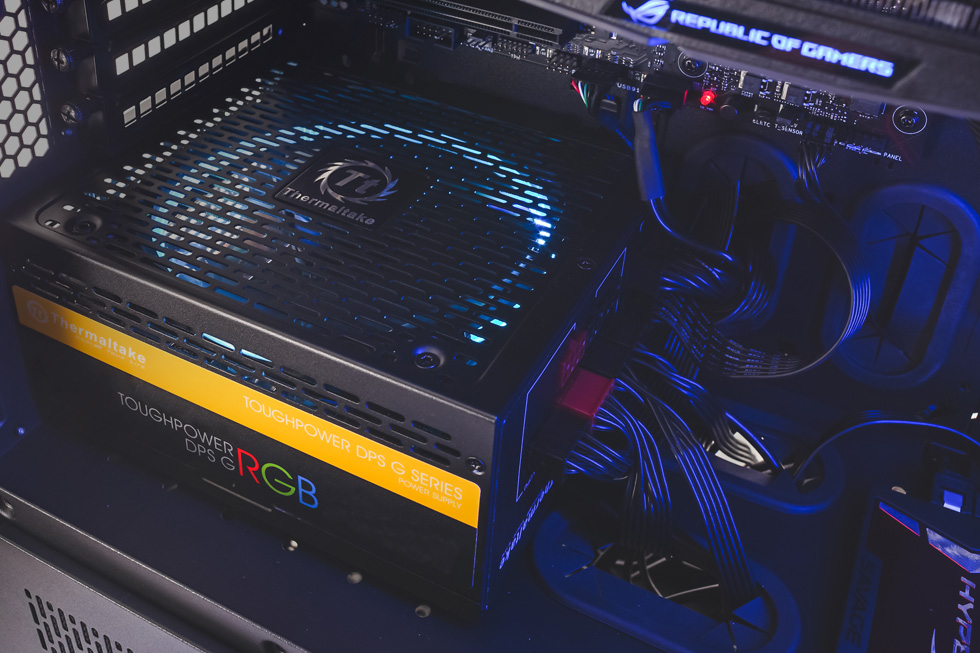 Core Component: MCU
Toughpower DPS G RGB 650W Gold Series comes with a 32Bit Microcontroller Unit (MCU) from Microchip Technology. The 32Bit MCU is a small computer on a single integrated circuit containing a processor core, memory, and programmable input/output peripherals. MCU can digitally control devices and processes, such as automobile engine control systems and office machines.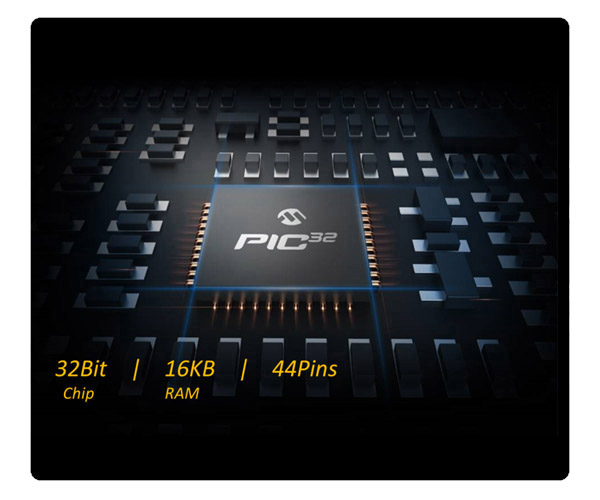 Digital Control Board
Digital power supplies support high-efficiency switching transistors that perform only necessary steps and waste less energy given off as heat. In short, digital power supplies do not dissipate power, which creates waste, and incorporate smaller, lighter transistors. Using smaller parts that work more efficiently enables Thermaltake to craft smaller and lighter power supplies, typically one of the bulkiest components in any PC.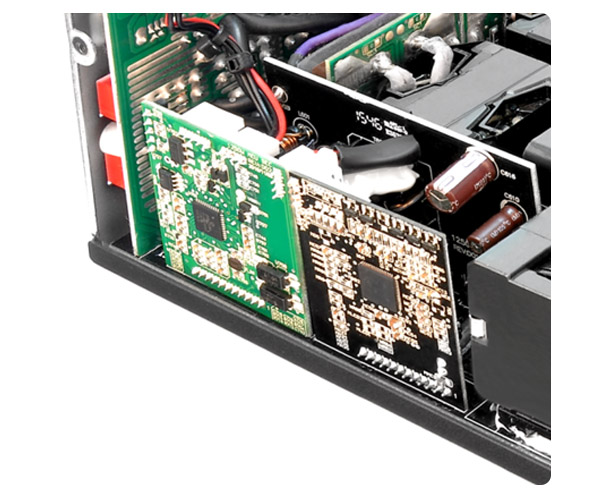 Massive and Dedicated +12V Output
Toughpower DPS G RGB 650W Gold is equipped with a powerful single +12V rail, please see the output specification below:
AC INPUT

Input Voltage: 100V - 240V
Input Current: 10A
Frequency: 47Hz - 63Hz

DC OUTPUT
+3.3V
+5V
+12V
-12V
+5VSB
Max Output Current
20A

20A

54A

0.8A

3A
Max Output Power

100W

648W

9.6W

15W

Continuous Power

650W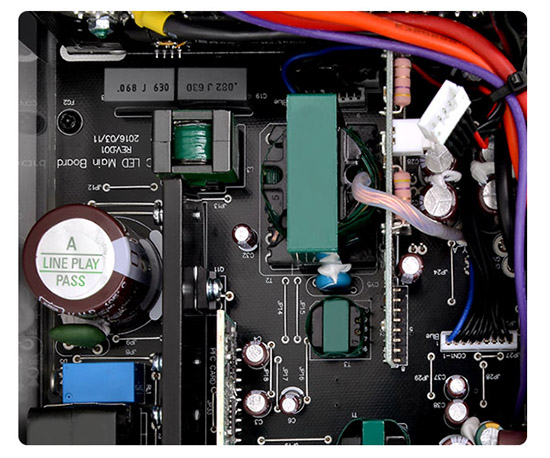 80 PLUS Gold-Certified and Kaby Lake-Ready
Toughpower DPS G RGB 650W Gold Power Supply with DPS G software delivers up to 91% efficiency under real-world load conditions, promising the lowest power losses. Additionally, Toughpower DPS G RGB 650W Gold has been optimized to work with Intel's new, Seventh-generation Kaby Lake processors to achieve maximum energy savings.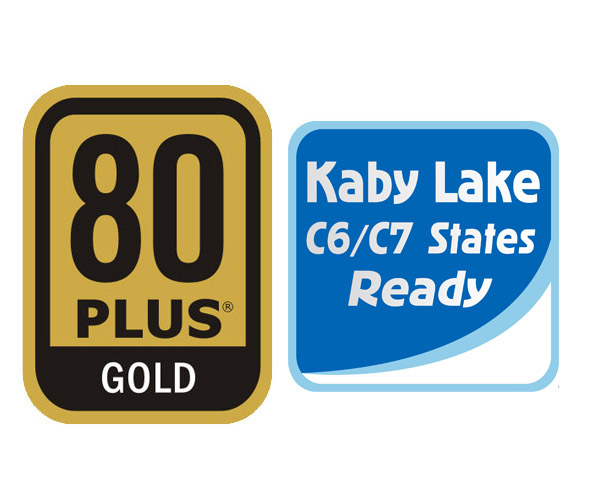 TT Power VR Ready
Toughpower DPS G RGB Series power supplies offer stable and sufficient output voltage for multiple VGA cards and high Capability of different VGA cards for VR system.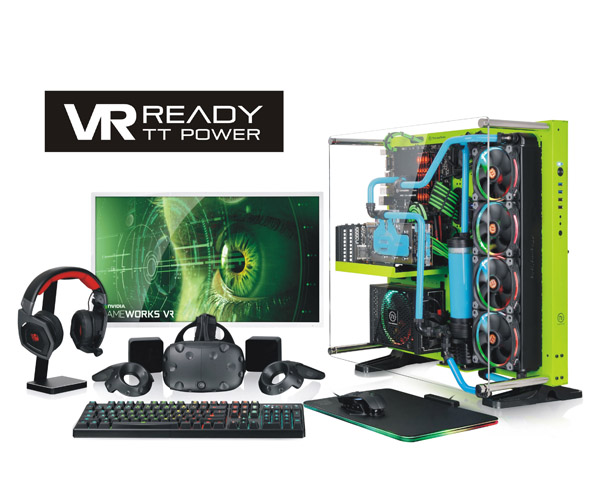 TT RGB PLUS Software
2.0 - New version of Thermaltake's TT RGB PLUS patented software, providing more lighting effects and PC monitoring functions.
1.0 - Thermaltake's patented software to synchronize TT RGB PLUS products with addressable LEDs.
Caution: TT RGB PLUS 2.0 and TT RGB PLUS 1.0 will overwrite one another; users can only install one version of TT RGB PLUS.

2.0 DOWNLOAD NOW 2.0 USER MANUAL
1.0 DOWNLOAD NOW LEARN MORE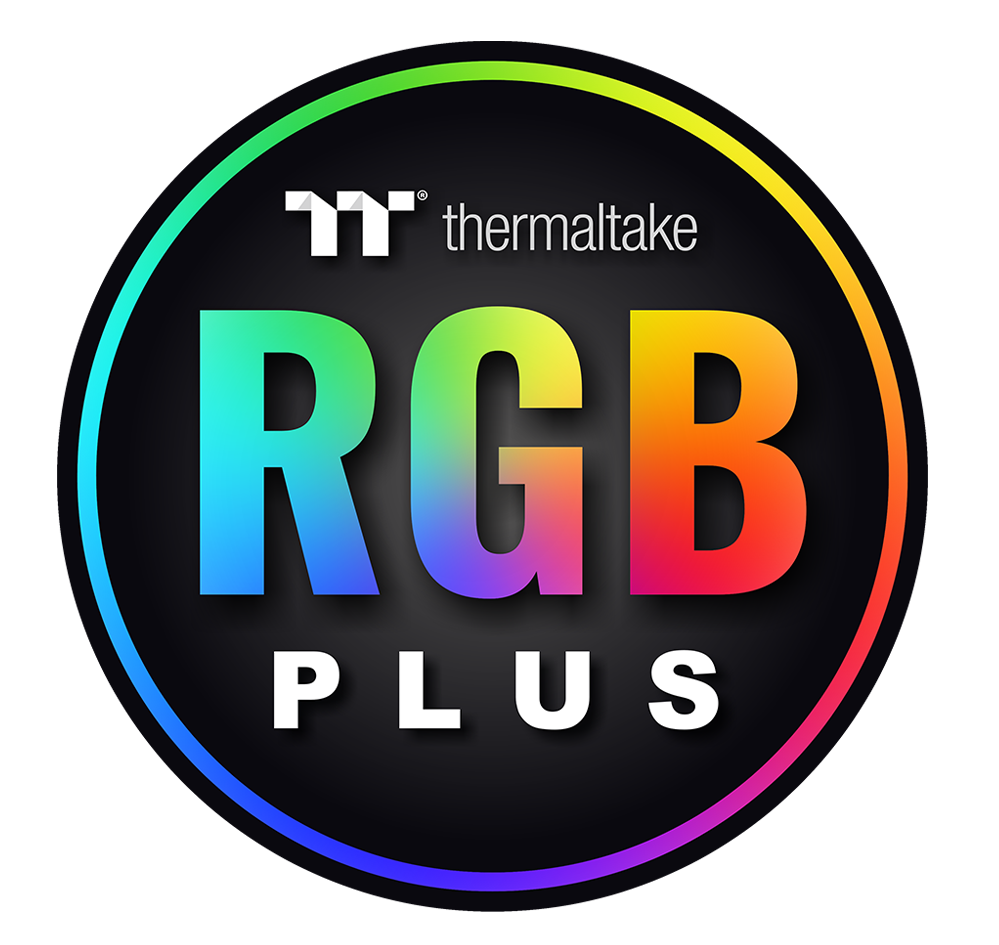 More Information

| | |
| --- | --- |
| P/N | PS-TPG-0650DPCG-R |
| watts | 650W |
| RGB Fan | Yes |
| Form Factor | ATX |
| Model | TPG-650DH3FCG-R |
| Type | Intel ATX 12V 2.31 & SSI EPS 12V 2.92 |
| Max. Output Capacity | 650W |
| Peak Output Capacity | 780W |
| Color | Black |
| Dimension ( W / H / D ) | 150mm(W) x 86mm(H) x 180mm(L) |
| PFC (Power Factor Correction) | Active PFC |
| Power Good Signal | 100-500 msec |
| Hold Up Time | > 16ms at 70% load |
| Input Current | 10A |
| Input Frequency Range | 47Hz - 63Hz |
| Input Voltage | 100V - 240V |
| Operating Temperature | 0 ℃ to +40℃ |
| Operating Humidity | 20% to 90%,non-condensing |
| Storage Temperature | -20 ℃ to +70 ℃ |
| Storage Humidity | 5% to 95%, non-condensing |
| Cooling System | 14 cm RGB fan |
| Efficiency | MEET 80 Plus GOLD at 115Vac input. |
| MTBF | 120,000 hrs minimum |
| Safety Approval | CE, TUV, FCC, UL/CUL, BSMI |
| PCI-E 6+2pin | PCI-E 6+2pin X 4 |
| Protection | OCP, OPP, OVP, UVP,OTP, SCP |
User Manual
File Name
Description
Size
Version
Release Date
Drivers & Software
File Name
Description
Size
Version
Release Date