Pacific Ultra Core P6 DP-D5 Plus Distro-Plate with Pump Combo
Pacific Ultra Core P6 DP-D5 Plus is a premium distribution plate specifically designed for the Core P6 Chassis and has a 3.9" LCD Display for distributing video, photos, or even local weather and time. This Enthusiast level distribution plate is also integrated with a high-performance D5 pump, so you can customize your PC build freely.
Take A Step Further With Your Core P6 Chassis
The Thermaltake Pacific Ultra Core P6 DP-D5 Plus pushes the boundaries and even takes your Core P6 Pro up a notch. It can perfectly integrate and upgrade your build, and for those who can't wait to try out the 3.9" LCD Display and DP-D5 pump with the RGB, this product can provide this combination of fun that you won't want to miss!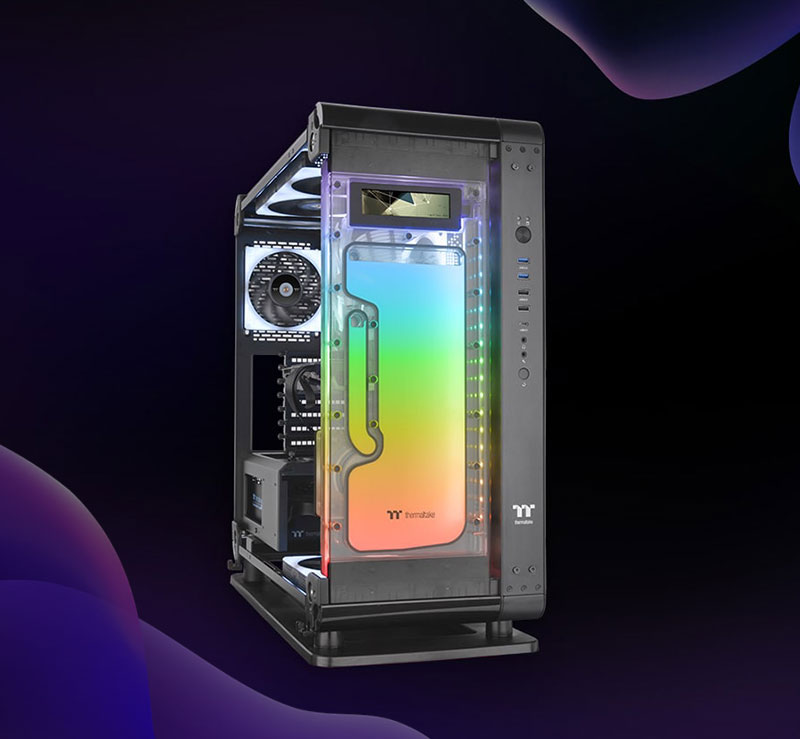 *The image is for reference only
Personalize Your LCD Display
3.9 Inch LCD display presents real-time information and plays JPG, GIF, PNG, MP4, MOV and AVI files with 480*128 resolution. What's more is users can even show the time and weather information on the display, bringing great visual aesthetics and highly customizable functions to your build.


Spectacular RGB Illumination Design
It features 18 addressable LEDs with 16.8 million RGB colors, allowing the reflection of the liquid in the distro plate to distribute spectacular RGB lighting effects. The lighting effects can be controlled through our TT RGB PLUS 2.0 software, Neonmaker, and 5V motherboard software such as ASUS, GIGABYTE, MSI, and ASROCK RGB software.
Straightforward Installation
Pacific Ultra Core P6 DP-D5 Plus provides the flexibility and fun of water loops while simplifying the tube structure and delivers exceptional space savings for the Core P6 chassis.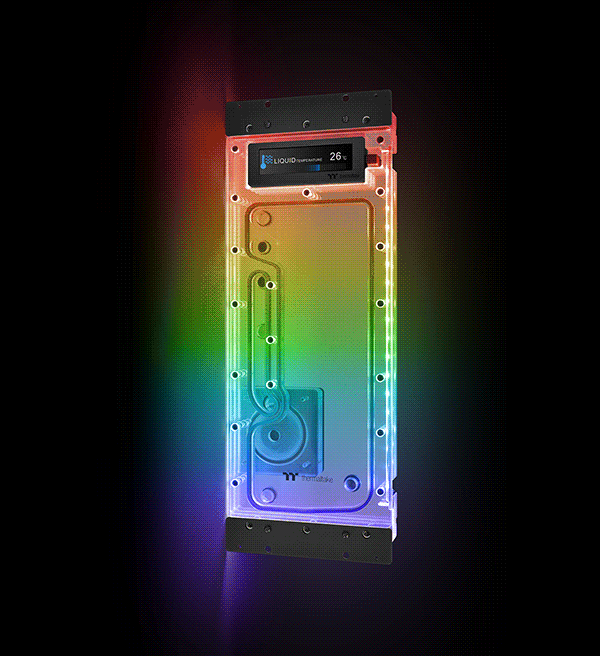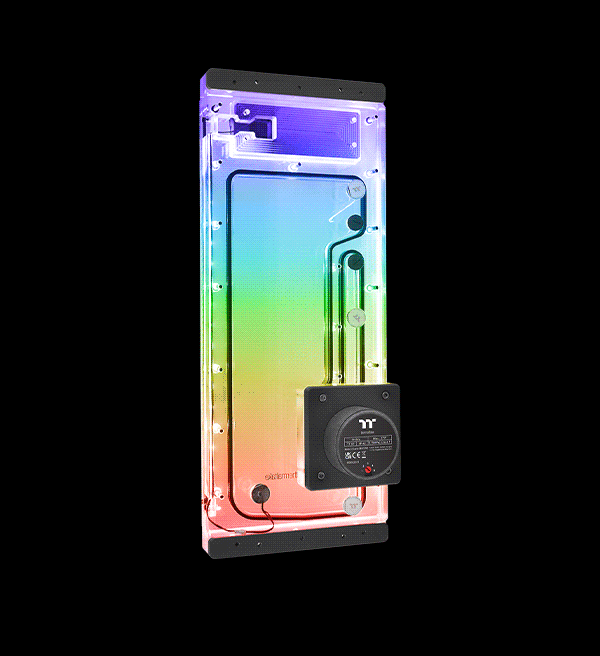 High Quality 30mm Thickness PMMA
It not only has excellent pressure resistance to sustain the output of up to 50 PSI (pounds per square inch) from the pump, but can also guarantee the overall product durability.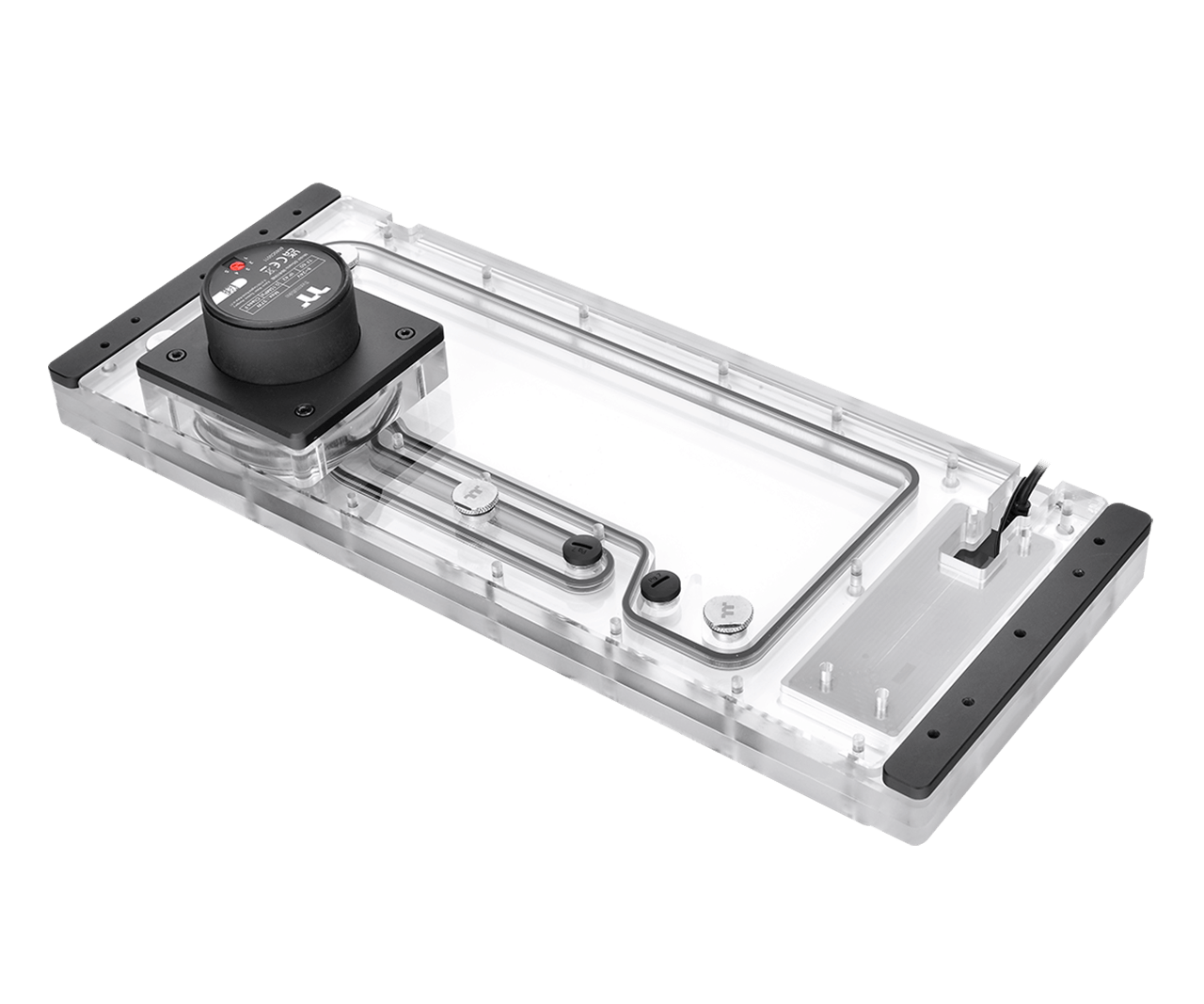 High-performance D5 Pump
High performance pump achieving 1135 L/hr and having a lifecycle of 50,000 hours MTBF.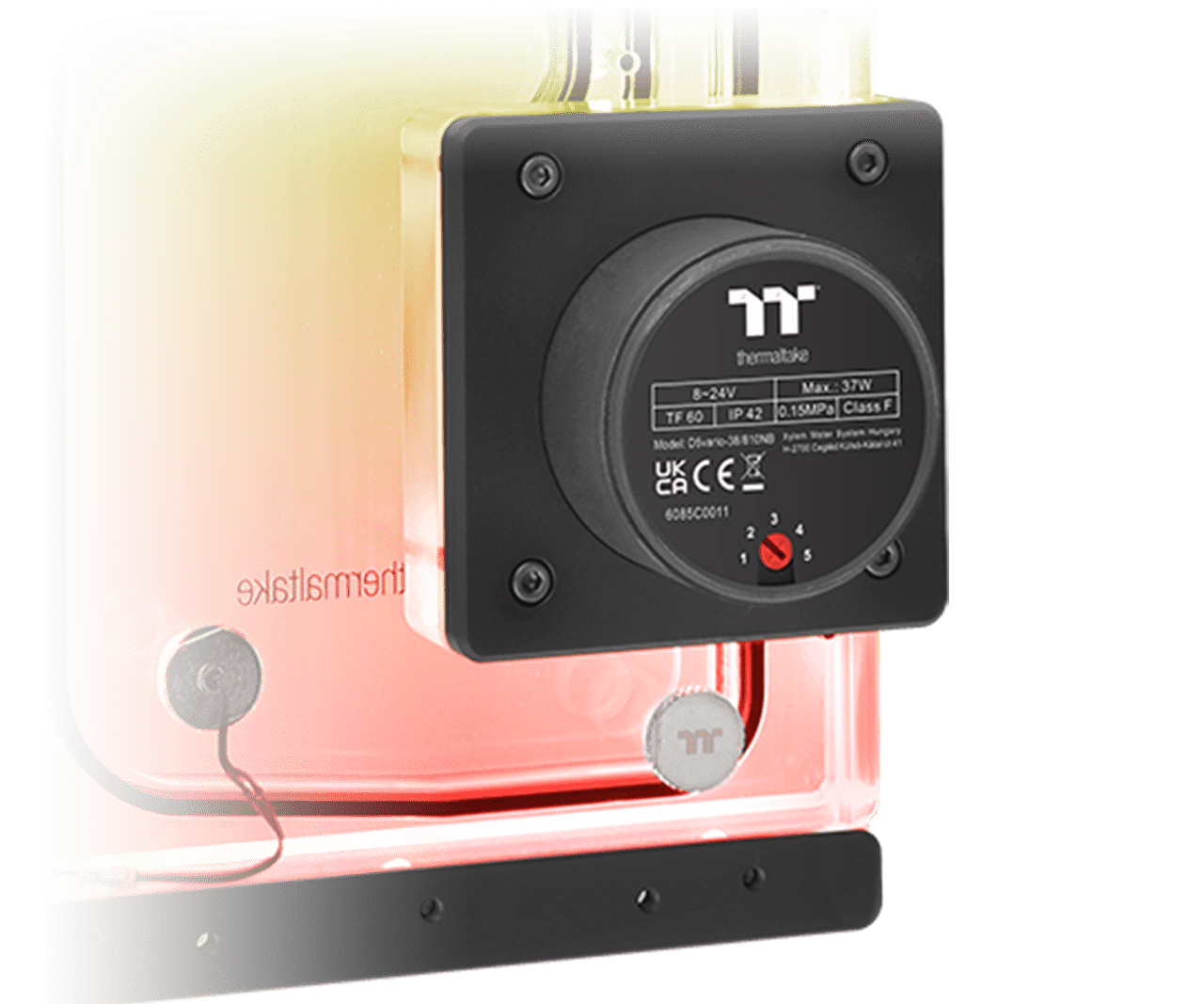 Customize Your Screen Display
Use TT RGB Plus to customize your favorite images or GIFs for your 3.9" LCD display, while monitoring PC components including CPU, GPU, RAM and coolant temperature. You can choose weather mode to display local weather, choose time mode to show time, or even upload images or videos to add an extra flair to your build with the TT RGB Plus 2.0 software.
Caution: The Ultra Series products are only supported by the TT RGB Plus 2.0. Software.
Check out more animated GIFs for your AIO displays here.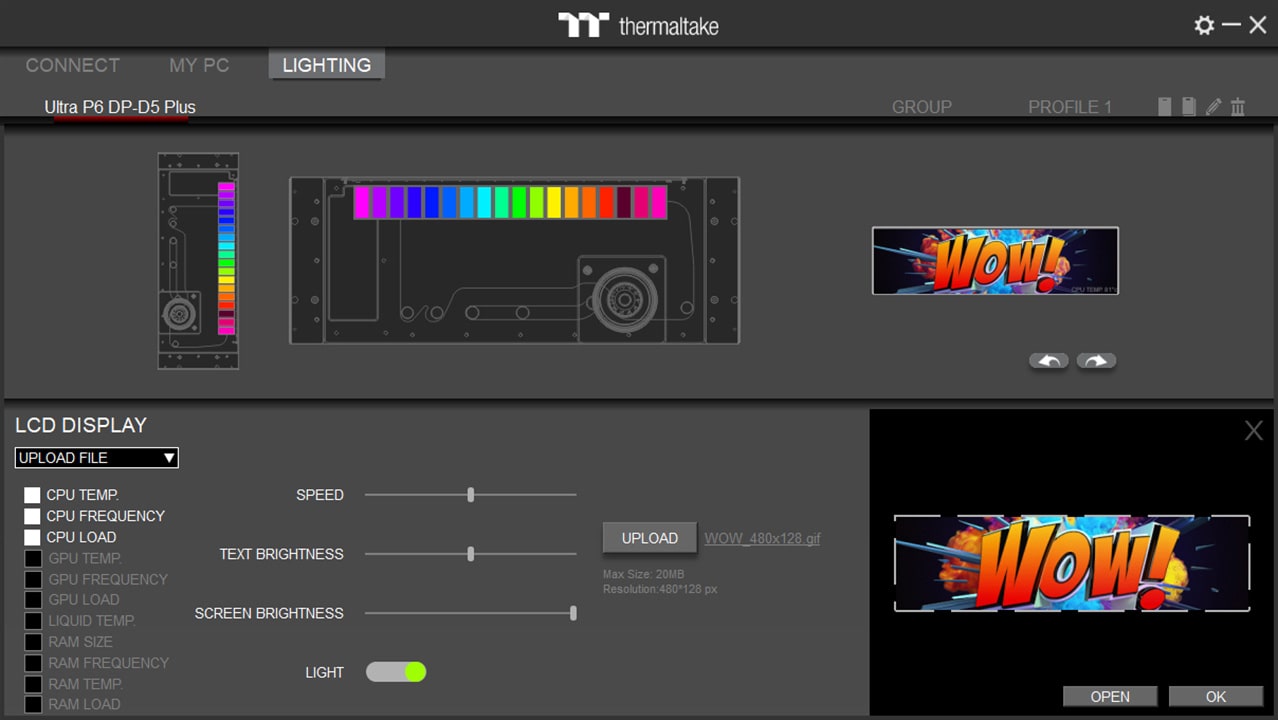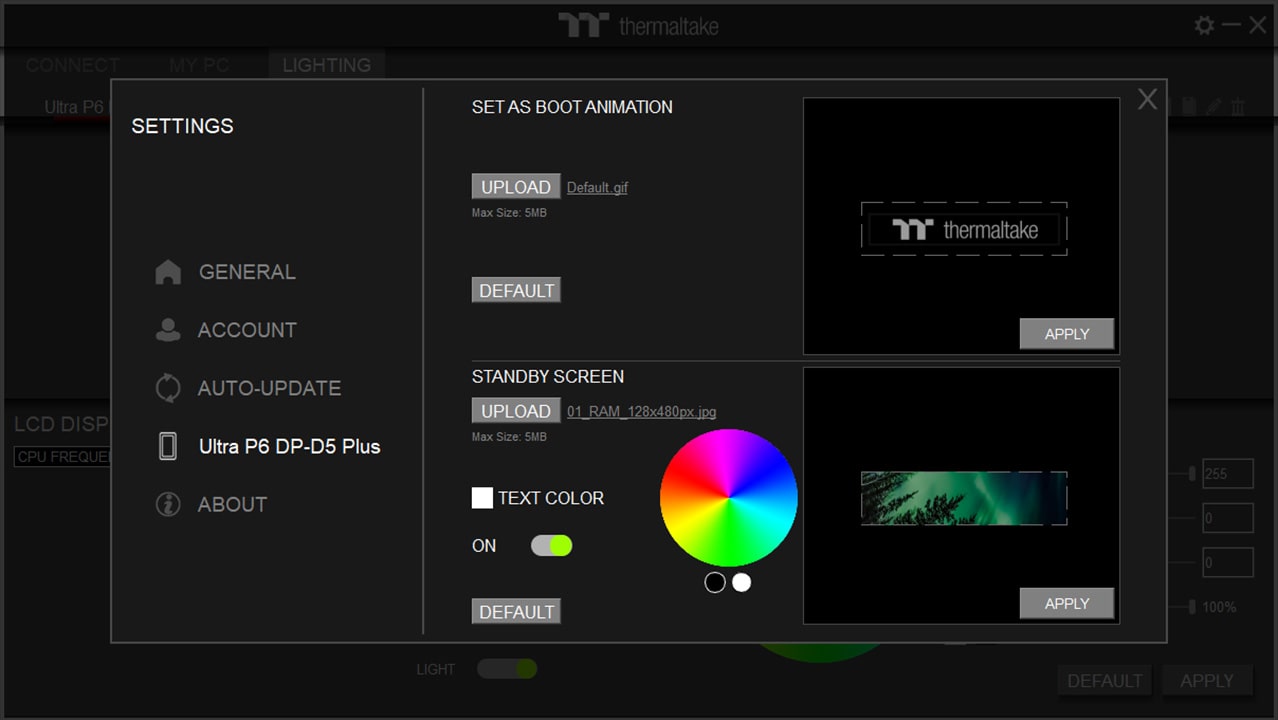 3.9" LCD Display with 480 *128 resolution
TT RGB PLUS Ecosystem
Light up your system with almost limitless possibilities and synchronize your TT RGB PLUS compatible products to create a RGB ecosystem that is truly unique to you.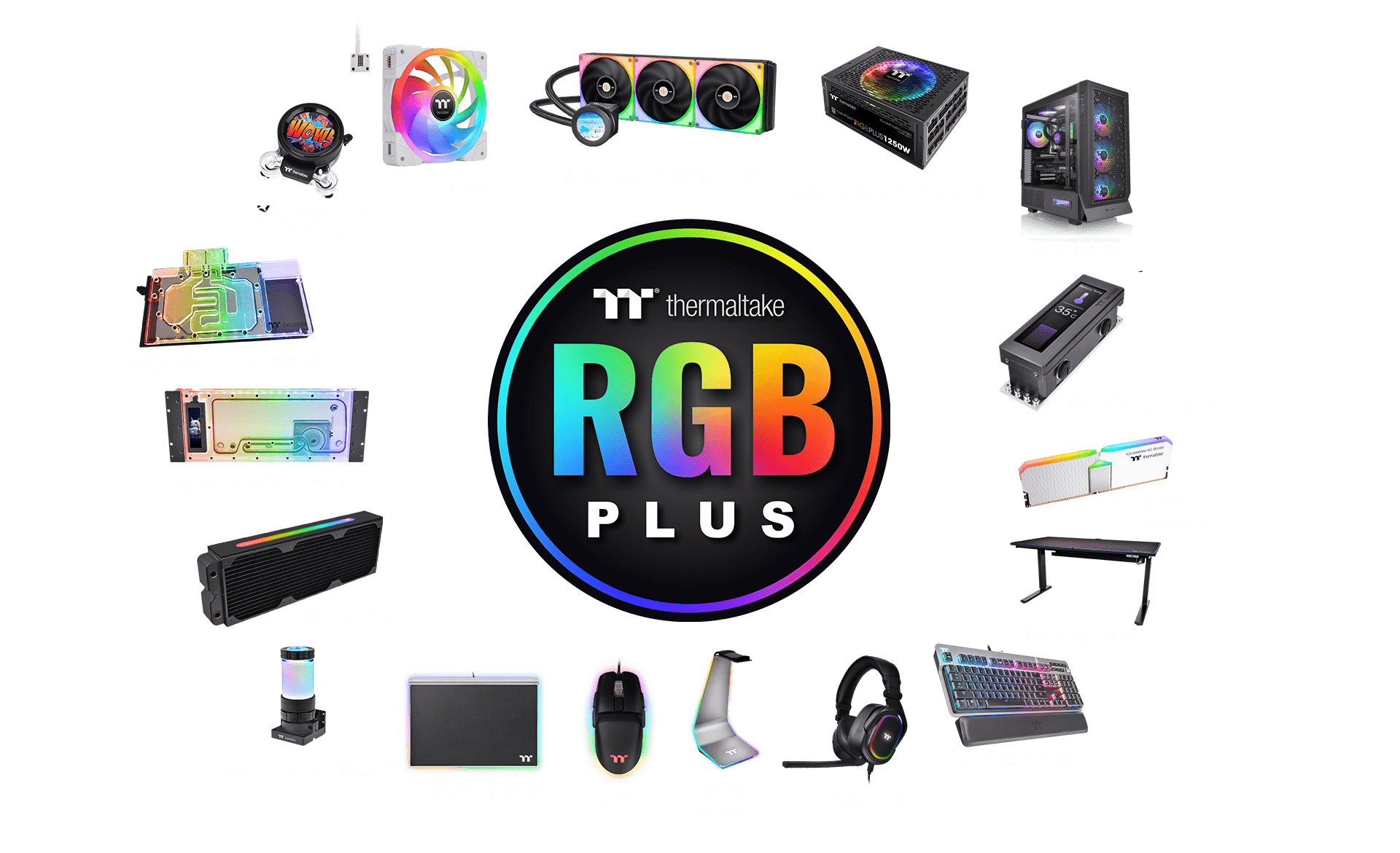 TT RGB PLUS 2.0 Software
The new version of Thermaltake's TT RGB PLUS patented software, providing more lighting effects and PC monitoring functions.

Caution:
TT RGB PLUS 2.0 and TT RGB PLUS 1.0 will overwrite one another; users can only install one version of TT RGB PLUS.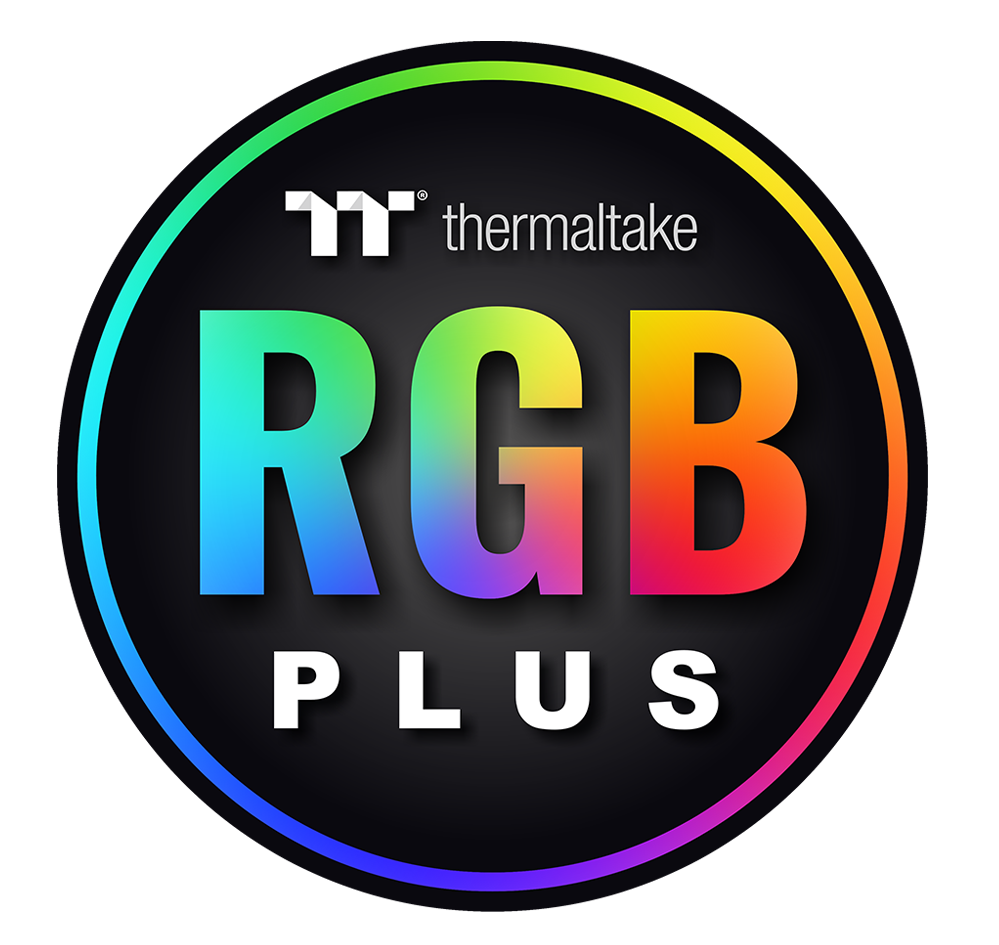 NeonMaker
The NeonMaker is a new and innovative approach to adjusting the RGB lighting on the some of our products, allowing users to customize lighting profiles and orchestrate their own light shows.
Personalize Riing Quad Fans, Riing Trio Fans, Distro Case, Floe DX RGB AIO, and TOUGHRAM RGB with NeonMaker!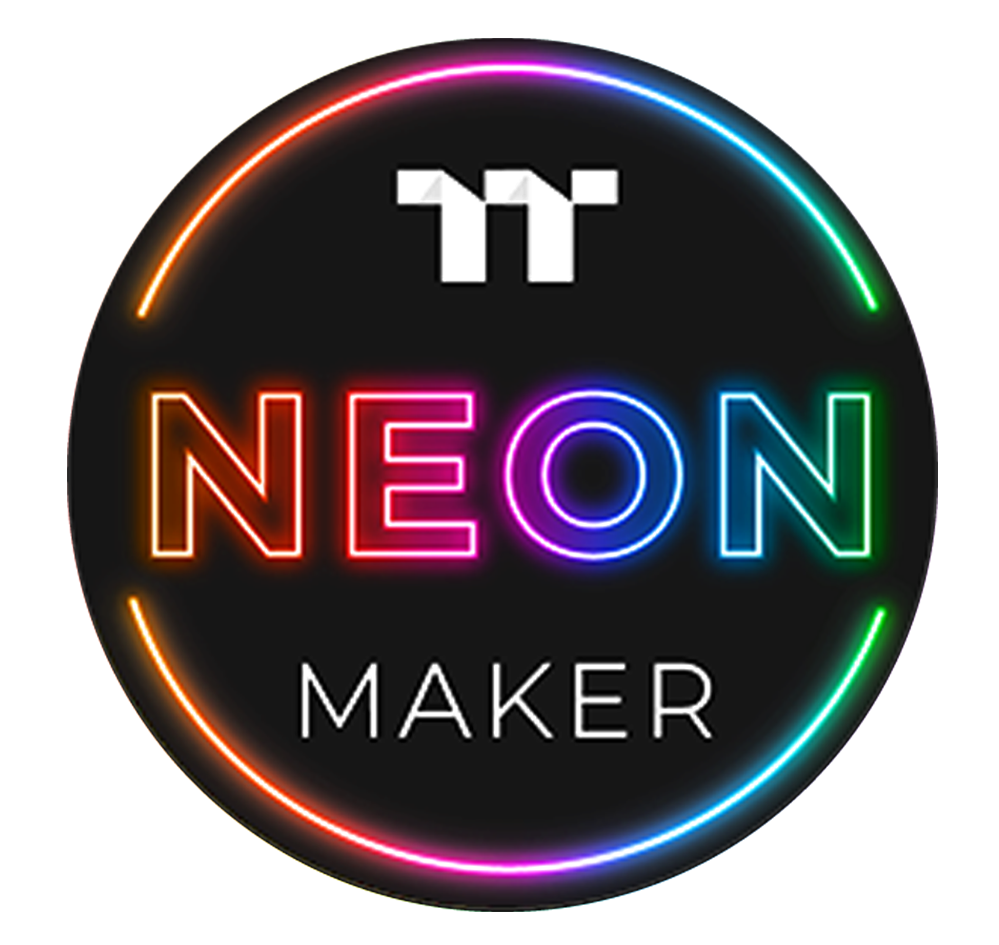 Works with Amazon Alexa
All Thermaltake TT RGB PLUS products support Amazon Alexa Voice Service, allowing you to give voice commands to the Alexa-enabled devices.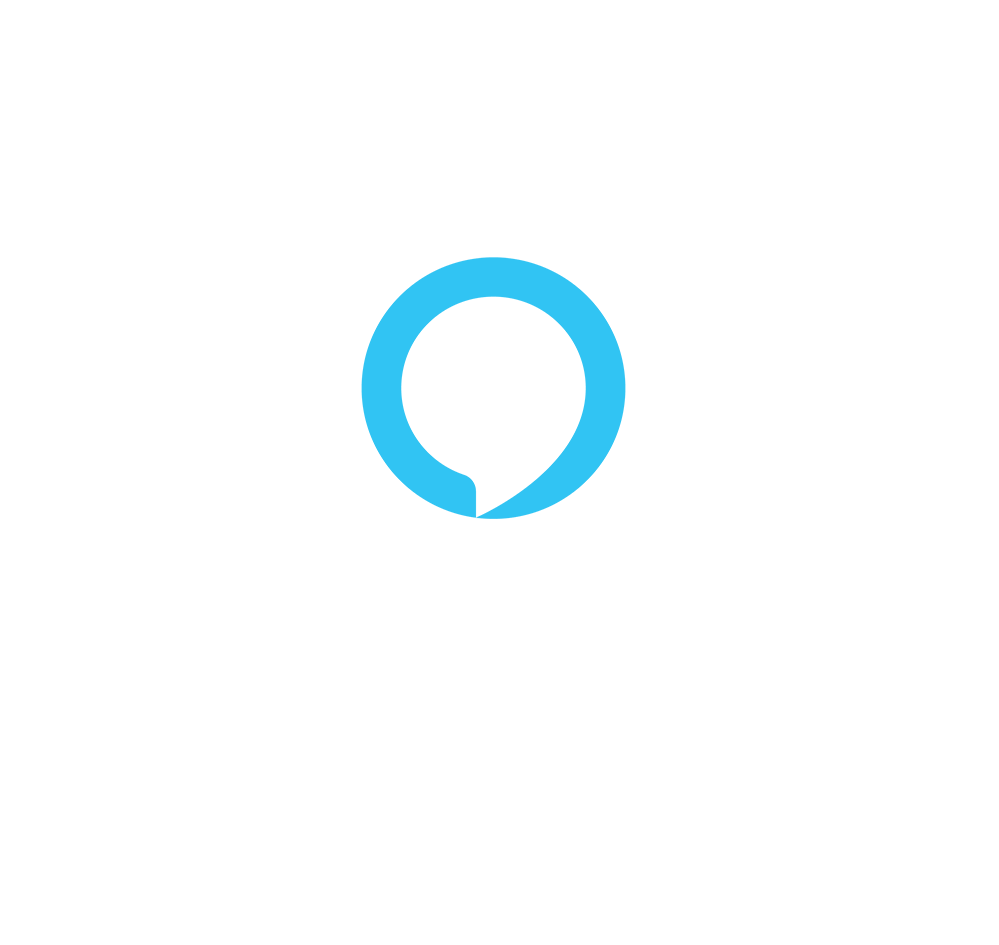 Cautions
Thermaltake recommends the following steps to be taken before using the Pacific series radiators and water blocks

To ensure a clean loop, flush and rinse your radiators and water blocks with distilled water prior to use.
Do not use tap water or distilled water as your coolant, it may harm your loop and reduce performance.
It is strongly recommended to use market proven pre-mix coolant, such as Thermaltake Coolant 1000. It offers great performance while protecting the entire liquid loop from corrosion.
Before storing your water cooling components, please clean, rinse and dry. This will ensure a longer lifespan for your components.
Thermaltake recommends the following steps to be taken after completing your water loop setup

It is strongly recommended to use market proven pre-mix coolant, such as Thermaltake Coolant 1000. It offers great performance while preventing the entire cooling system – copper, brass, nickel, aluminum, and steel – from corrosion.
Fill the reservoir with coolant and cycle the power on and off several times while the pump pushing the coolant into the loop.
DO NOT let the pump run dry, when there is no liquid entering the pump turn off your power immediately
Fill the reservoir to the top as it will prevent air from going into the pump
If necessary tilt the system slightly from side to side to bleed the air out of the loop.
Place some paper towels under fittings and joining points to test for leaks.
Run the loop with the fill port open for about 24 hours to completely bleed the air out of the loop.
Before starting, flush out your system correctly to prevent any coolant or unwanted particles sticking to your tubes, radiators and other cooling components.
Coolant might fade over time.
More Information
P/N
CL-W358-PL00SW-A
Dimensions ( mm )
458 (L) x 170 (W) x 87 (H)
Material
PMMA
Capacity
300 ml
Maximum head
15 feet (4.5m)
Maximum Flow Rate
1135 L/h
Maximum pressure
50 PSI
Input Voltage
12 V / 5 V
Power Input
37 W / 3.5 W
Connector
4 Pin
Pump Speed
P1: 1,800 RPM
P2: 2,550 RPM
P3: 3,300 RPM
P4: 4,050 RPM
P5: 4,800 RPM
Screw Thread
G 1/4
Parts
Stopper *5 (G 1/4 )
Interface
USB 2.0 connectors (9 Pin)
System compatibility
Windows 10/11
Display
Rated Voltage : 5V
Power Input : 1.4 W
Display Type : 3.9" TFT-LCD (IPS)
Display Resolution : 128x480 (RGB) dots
Interface : Micro USB to USB (9PIN)
System Compatibility : Windows 10/11
User Manual
File Name
Description
Size
Version
Release Date