Thermaltake Level 20 XT Cube Chassis
Thermaltake is thrilled to present the latest TT Premium product line – Level 20 Series which commemorates 20 years of dedication to the PC industry. Under this product line is the new Level 20 Series – Level 20 XT.
Level 20 XT is a cube case specially designed to show off custom liquid cooling systems. The level 20 XT has a unique flat motherboard design that puts components on display from any angle, and a chamber design that separates cooling, PSU and hardware components in the upper and lower sections.
The Level 20 XT takes our latest case innovations and wraps them in an ultra-modern style that's utterly unique in the case market today.
Stand out from the crowd with the Level 20.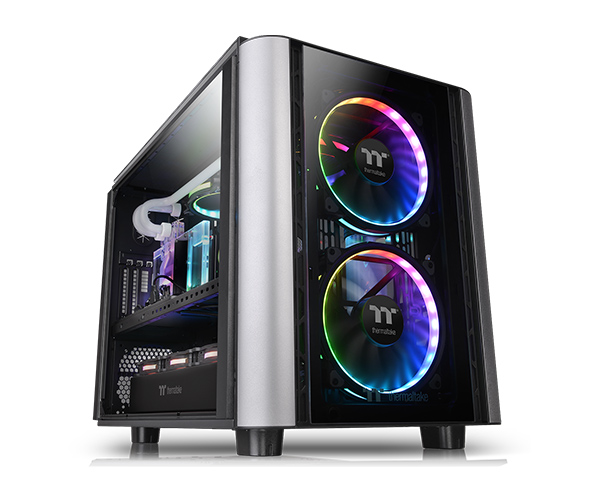 *The image is for reference only.
*One 140mm rear fan is included.
TT Premium
To continue achieving the corporate mission of delivering the perfect user experience, Thermaltake developed "TT Premium" with the essence of combining supreme quality products with a new logo design. TT Premium is far more than just a guarantee of quality. Behind the name, it represents the passion in DIY, Modding and Thermaltake's desire to be the most innovative brand in the PC hardware market. To satisfy the demand of the high-end PC users, TT Premium follows its core values of Excellent Quality, Unique Design, Diverse Combinations and Boundless Creativity to provide a high performance PC product for every enthusiast.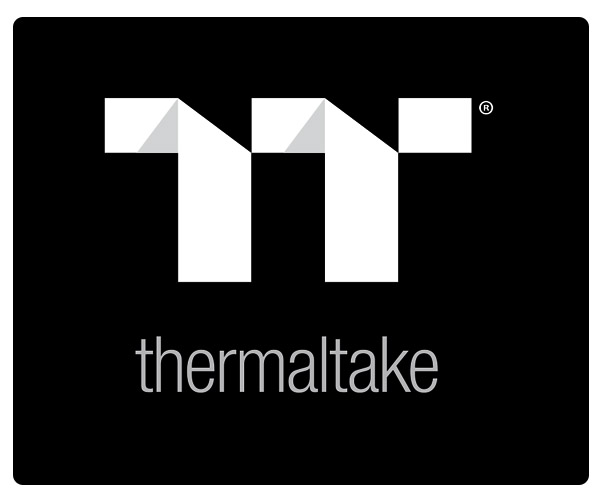 Tt LCS Certified
Tt LCS Certified is a Thermaltake exclusive certification applied to only products that pass the design and hardcore enthusiasts standards that a true LCS chassis should be held to. The Tt LCS certification was created so that we at Thermaltake can designate to all power users which chassis have been tested to be best compatible with extreme liquid cooling configurations to ensure you get the best performance from the best features and fitment.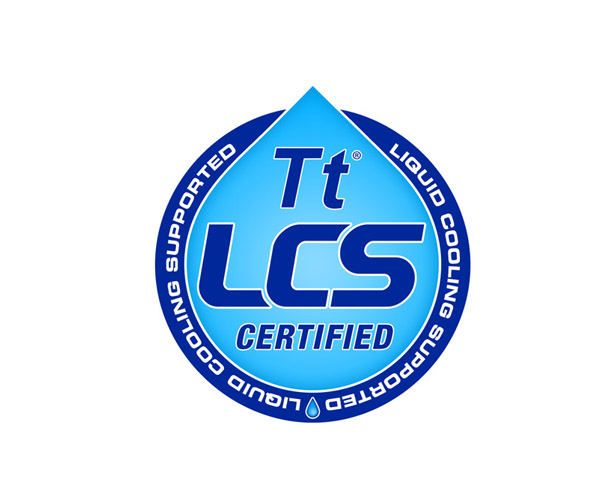 Chamber Design
The Level 20 XT carries over the innovations of some of our earlier cube case designs by splitting the chassis into two chambers. The chamber houses the motherboard tray GPU and other PCI-E cards, while the lower chamber houses the power supply, storage devices and cooling elements.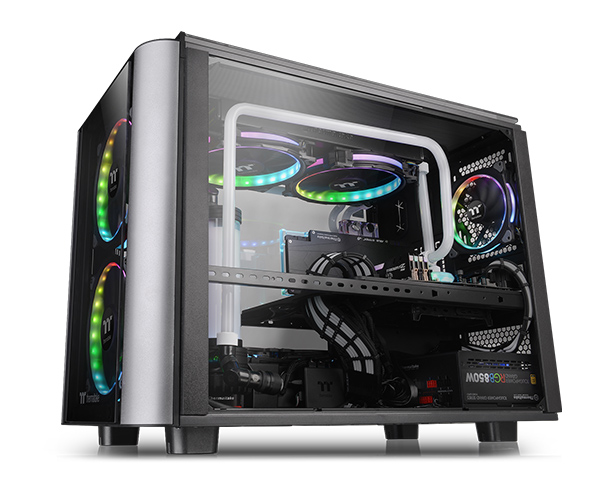 *The image is for reference only.
*One 140mm rear fan is included.
Superior Hardware and Liquid Cooling Support
Level 20 XT supports up to E-ATX motherboards, CPU coolers up to 250mm in height, VGA lengths up to 400mm and PSU sizes up to 220mm in length. The XT also supports up to 480mm radiators, with mounting positions along the top, the front, or along either side in the lower chamber.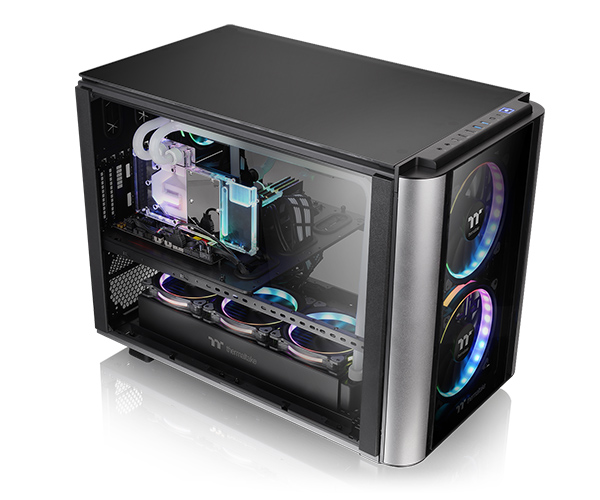 *The image is for reference only.
*One 140mm rear fan is included.
Four 4mm Tempered Glass Panels
The front, top and side panels are all built from our ultra-durable 4mm tempered glass. This means the panels are more resistant to dust and scratches than acrylic and provide a clearer view of internal components.
*The image is for reference only.
*One 140mm rear fan is included.
Advanced Ventilation
Level 20 XT is preinstalled with one 140mm rear fan. Level 20 XT enables users to build a complete high-end system with ample room for up to two front 200mm fans and is fully compatible with 480mm, 360mm, 280mm, 240mm, 140mm and 120mm radiators. Removable top magnetic fan filter, front fan filter, and bottom filter provide excellent reduction against dust, and better airflow.
*The image is for reference only.
*One 140mm rear fan is included.
Speedy Transmission (USB Type-C™ & USB 3.0)
The side I/O ports features two USB 3.0, two USB2.0 and one Type-C port, to grant users easy access for speedy transmission.
DMD: Dismantlable Modular Design
Strip your case down to the bones and install elements when and as you need them with our modular design. The level 20 GT features modular panels, racks, brackets, and pre-design mounting arrays. No more unreachable screw corners or gaps, installation can be a breeze with our Dismantlable Modular Design.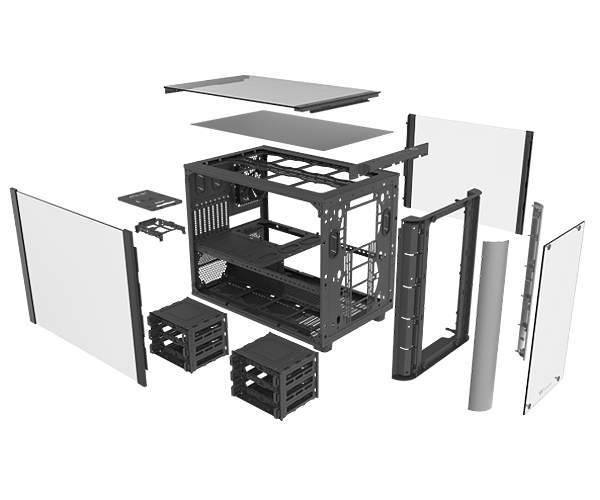 Level 20 XT Radiator Supporting List
Radiator Compatibility List
120
mm
140
mm
180
mm
240
mm
280
mm
360
mm
420
mm
480
mm

Front

●
●
●
●
●
●
-
-
Top
●
●
●
●
●
●
●
●
Rear
●
●
-
-
-
-
-
-
Bottom
●
●
-
●
●
●
●
●
Side(L/R)
●
●
-
●
●
●
●
●
All-in-One Compatibility List
(Water 3.0 and Floe series)

Performer

Pro

240
Series

360
Series

140
Series

280
Series

Front

-
-
-
-
-
-
Top
●
●
●
●
●
●
Rear
●
●
-
-
●
-
Bottom
-
-
-
-
-
-
Side (L/R}
-
-
-
-
-
-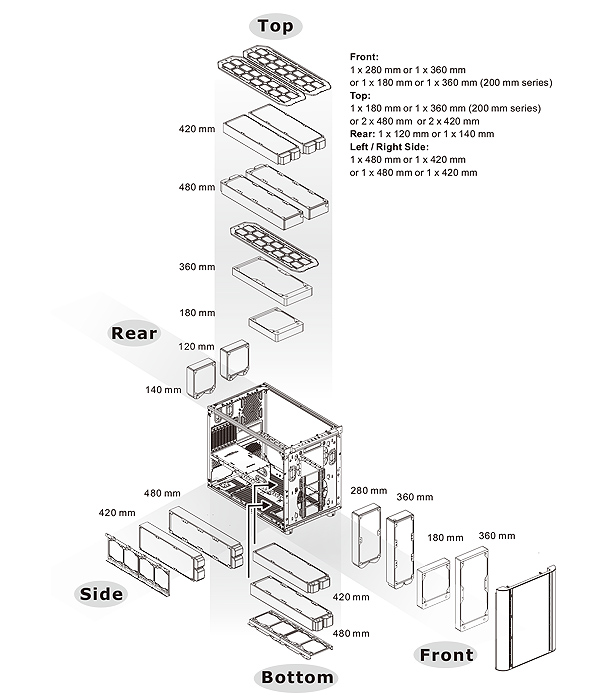 Level 20 XT Fan Supporting List
Fan Compatibility List
120mm
140mm
200mm

Front

3
2
2
Top
8
6
2
Rear
2
2
-
Bottom
6
-
-
Side(L/R)
4
3
-
Fan Compatibility List
120mm
140mm
200mm
Pure Fan Series

●

●

●
Luna Fan Series

●

●

●
Riing Fan Series

●

●

●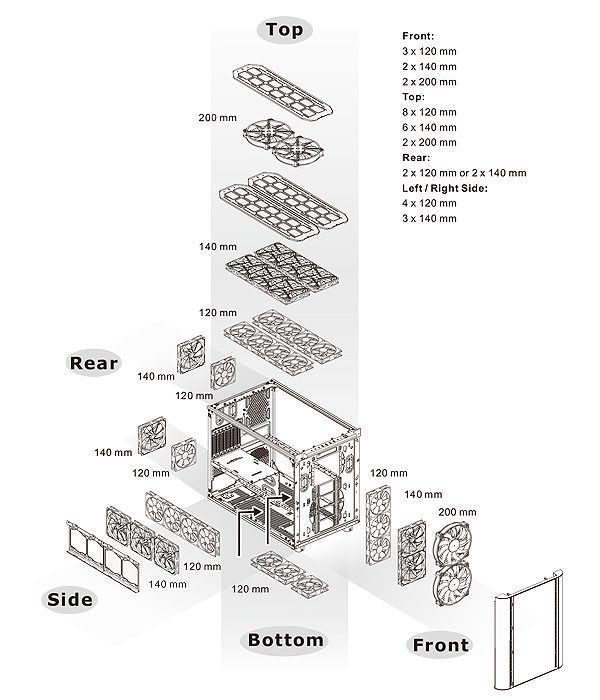 More Information
P/N
CA-1L1-00F1WN-00
Series
Level 20
Model
Level 20 XT
Case Type
E-ATX Cube Case
Dimension (H x W x D)
515 x 394 x 662 mm
(20.3 x 15.5 x 26.06 inch)
Net Weight
20.4 kg / 44.97 lb
Side Panel
4mm Tempered Glass x 4(Left & Right & Front & Top)
Color
Exterior & Interior : Black
Material
SPCC
Cooling System
Rear (exhaust) :
140 x 140 x 25 mm fan (1000rpm, 16dBA)
Drive Bays
-Accessible
-Hidden

6 x 3.5'' or 2.5'' (HDD Cage)
1 x 3.5'', 2 x 2.5'' (M/B Tray)
Expansion Slots
8
Motherboards
6.7" x 6.7" (Mini ITX), 9.6" x 9.6" (Micro ATX), 12" x 9.6" (ATX), 12" x 13" (Extend ATX)
I/O Port
USB 2.0 x2, USB 3.0 x2, HD Audio x 1, Type-C x1
PSU
Standard PS2 PSU (optional)
Fan Support
Front:
3 x 120mm, 2 x 140mm, 2 x 200mm
Top:
8 x 120mm, 6 x 140mm, 2 x 200mm
Rear:
2 x 120mm or 2 x 140mm
Bottom:
3 x 120mm
Left / Right Side:
4 x 120mm, 3 x 140mm
Radiator Support
Front:
1 x 120mm or 1 x 240mm or 1 x 360mm
1 x 140mm or 1 x 280mm
Top:
2 x 120mm or 2 x 240mm or 2 x 360mm or 2 x 480mm
2 x 140mm or 2 x 280mm or 2 x 420mm
Rear:
1 x 120mm or or 1 x 140mm
Left / Right Side:
1 x 120mm or 1 x 240mm or 1 x 360mm or 1 x 480mm
1 x 140mm or 1 x 280mm or 1 x 420mm
Bottom:
1 x 120mm or 1 x 240mm or 1 x 360mm or 1 x 480mm
1 x 140mm or 1 x 280mm or 1 x 420mm
Clearance
CPU cooler height limitation:
250mm
VGA length limitation:
400mm(with ODD cage)
590mm(without ODD cage)
PSU length limitation:
220mm (With Bottom Fan)
User Manual
File Name
Description
Size
Version
Release Date