Thermaltake
Core P6 TG Snow
Innovative, Transformable, and Stylish
Core P6 Tempered Glass Snow ATX Mid Tower Chassis
The Core P6 TG Snow Mid Tower Case is the smaller version of the Core P8 TG Full Tower Case. Just like the Core P8 TG, the Core P6 TG Snow can be transformed into a closed or open styled form effortlessly and is the newest member of the Thermaltake iconic open-frame Core Series. The Core P6 TG Snow features a fully modular design, Rotational PCI-E Slots, a PSU cover, an extra GPU bracket, support for 120mm and 140mm fans, support for 360mm and 280mm radiators, and removable filters. With all the significant features, the potential for the hardware expansion and cooling solution is remarkable for the Core P6 TG Snow. Users will enjoy the process of building in the Core P6 TG Snow Mid Tower Case and find it truly unique and innovative.
The image is for reference only.
Transformable Chassis
The Core P6 TG Snow is a dual-form ATX mid tower case which can be transformed into an open frame case once the front and top tempered glass panels are removed.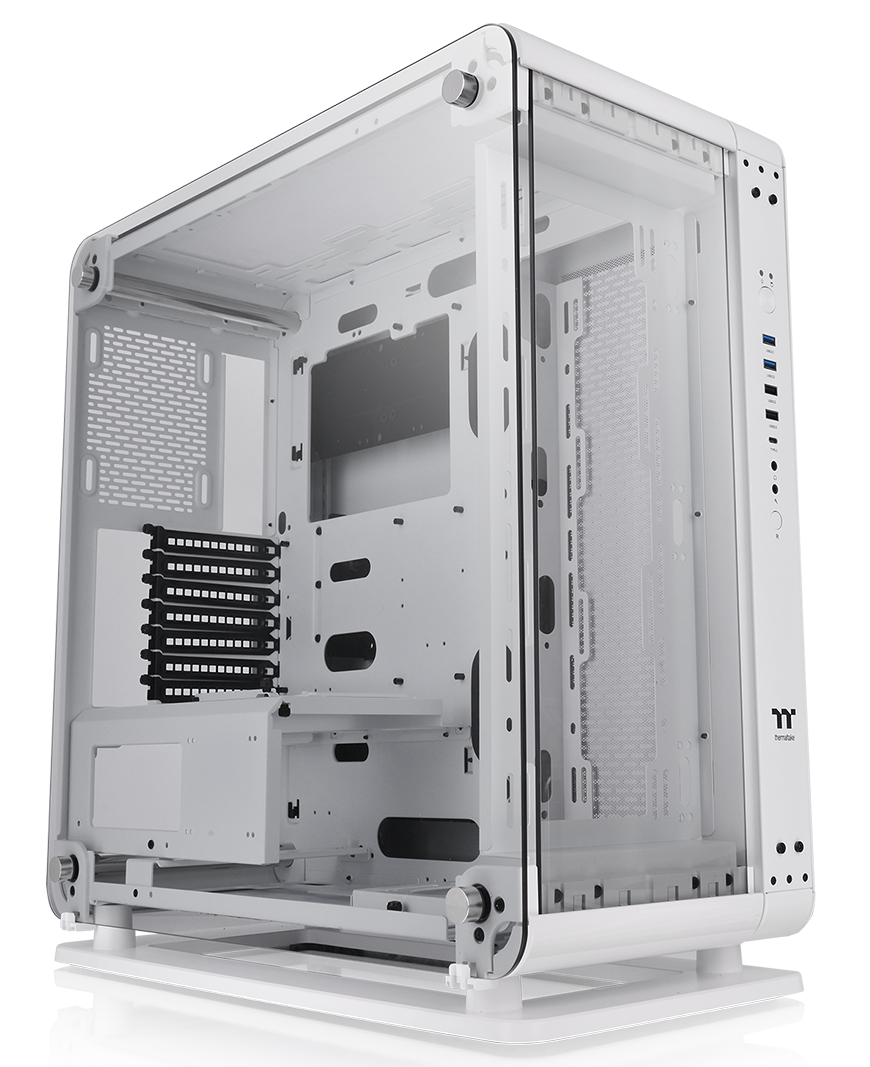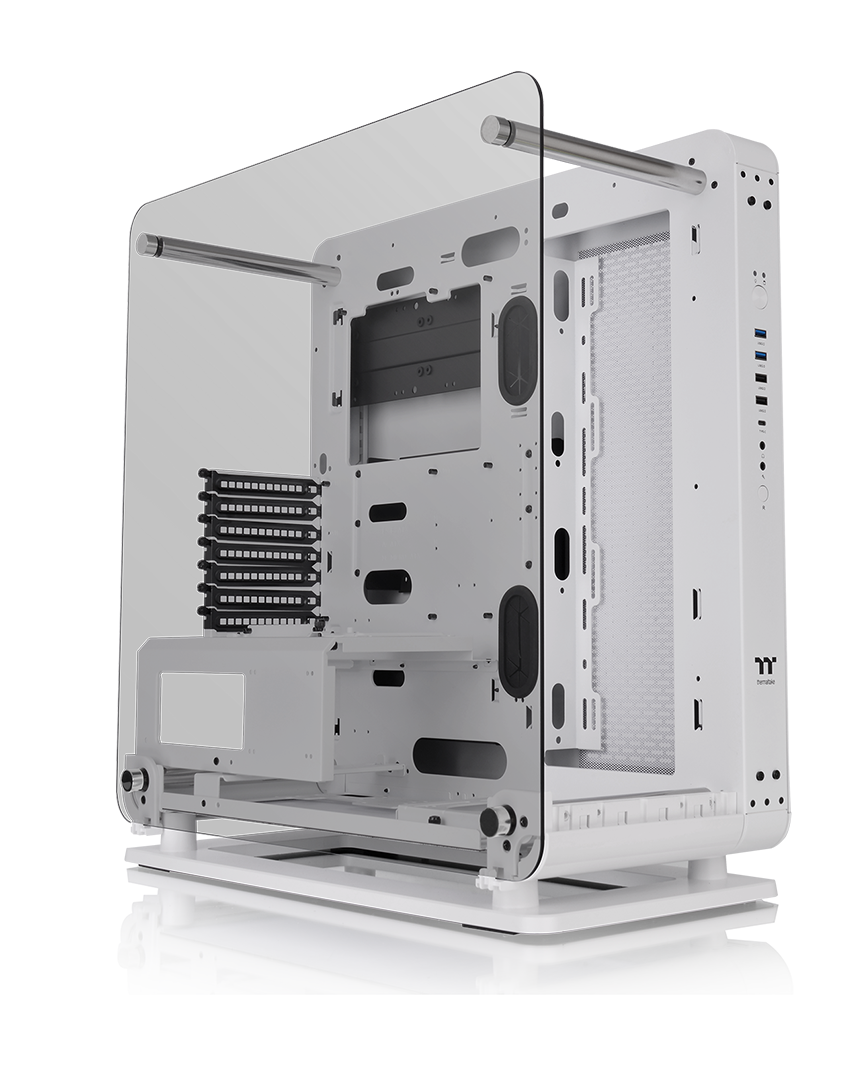 Two-Way Placement Layout
The Core P6 TG Snow is designed for use in two different ways: Wall-mounted or vertical placement. Built for customization that reflects the makers' personality, it allows for easy adjustments to the case for the best viewing presentation while ensuring outstanding cooling performance. Hang it on the wall as a decoration is something that our users love to do with the Core P Series Chassis.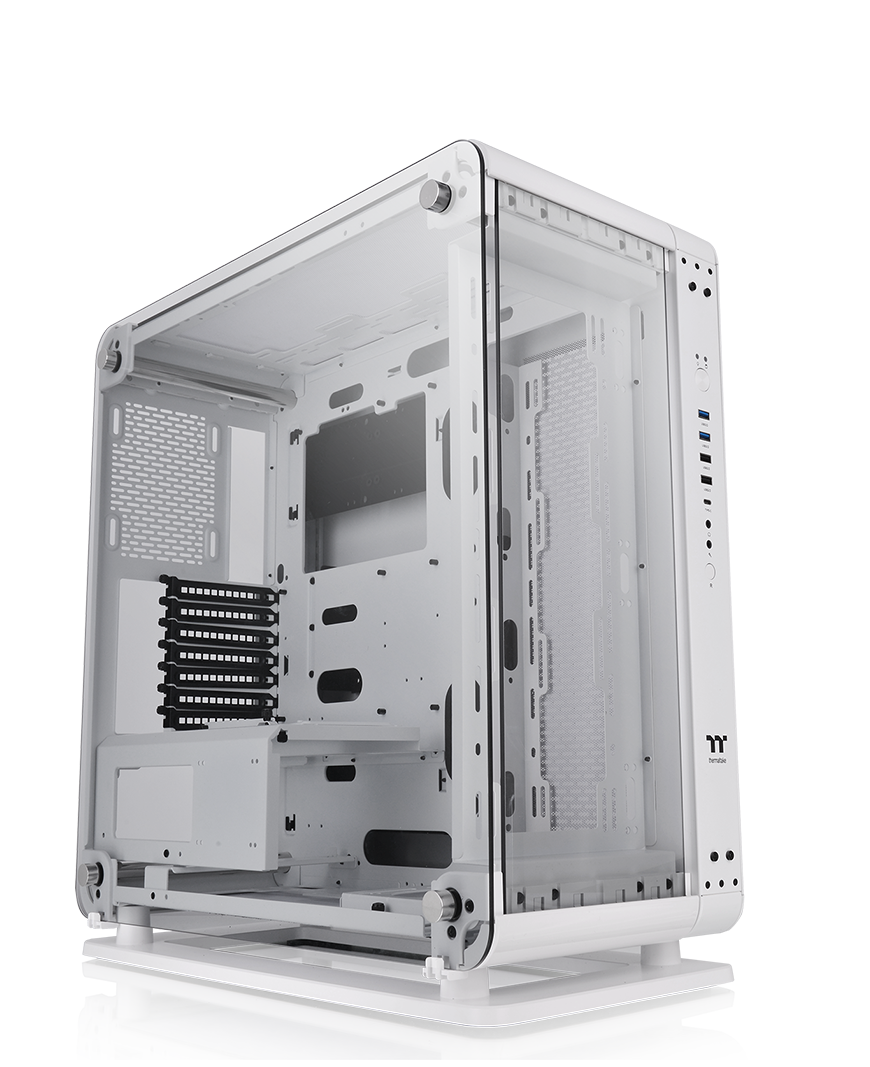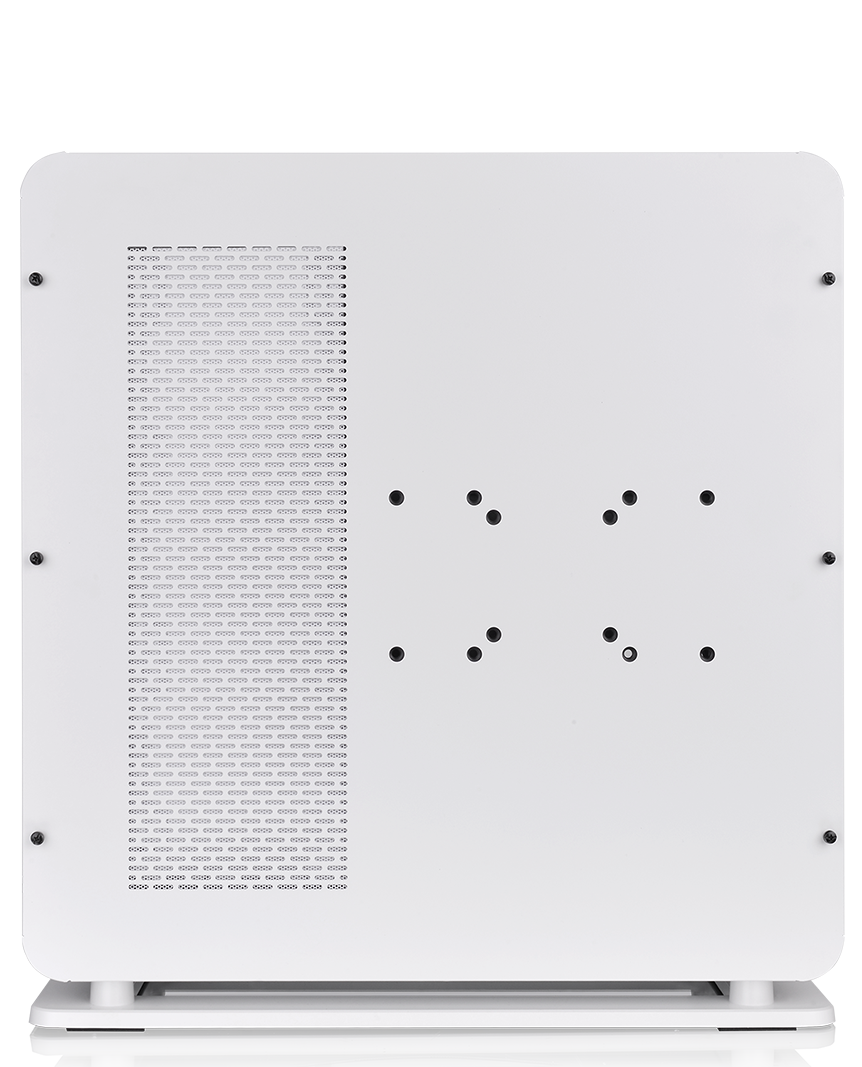 4mm Thick Tempered Glass Window with Stunning Viewing
The Core P6 TG Snow features three 4mm thick tempered glass panels which are designed to meet the highest standards in the industry. The enlarged glass windows permit users to fully display their RGB components in the system, and show off their dedication and skill sets.
Display It Your Way
Rotational PCI-E slots give you the option to display your graphics card either horizontally or vertically, creating plenty of flexible space for your system.
Thermaltake TT Premium PCI-E 4.0 Extender (Optional) – Supports a wide range of GPU solutions with ultra-excellent quality. Available in 300mm, 300mm (90° adaptor), and 600mm.
PSU Cover & Riser GPU Support Bracket
The built-in PSU cover is designed to hide unsightly cables with overall good ventilation. The Riser Cable bracket on top of the PSU cover and an extra L-shape GPU bracket in the accessory box not only enable vertical GPU installation, but help reduce the weight on the PCI-E slots, especially when installing high-end graphics cards like NVIDIA GEFORCE RTX Series and AMD Radeon™ RX Series. Additionally, the extra GPU bracket can be used to hold vertical and horizontal placed GPUs and users can install the bracket in three ways based on their needs.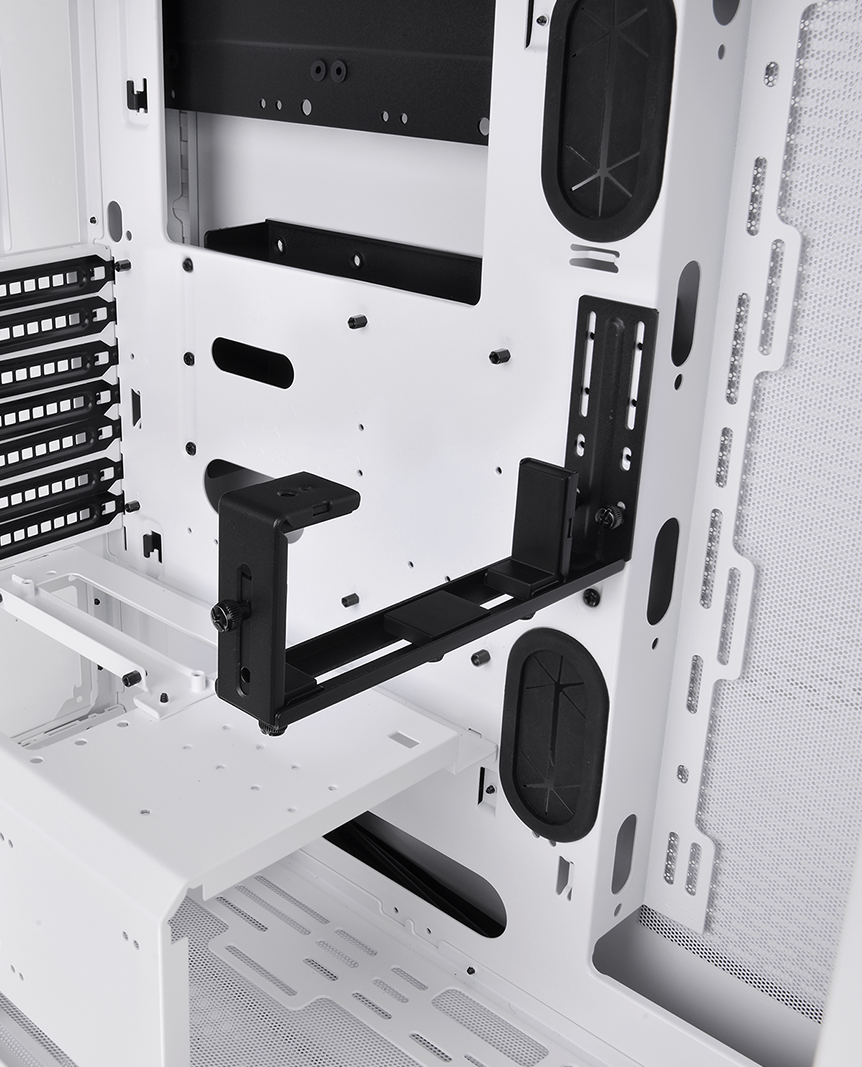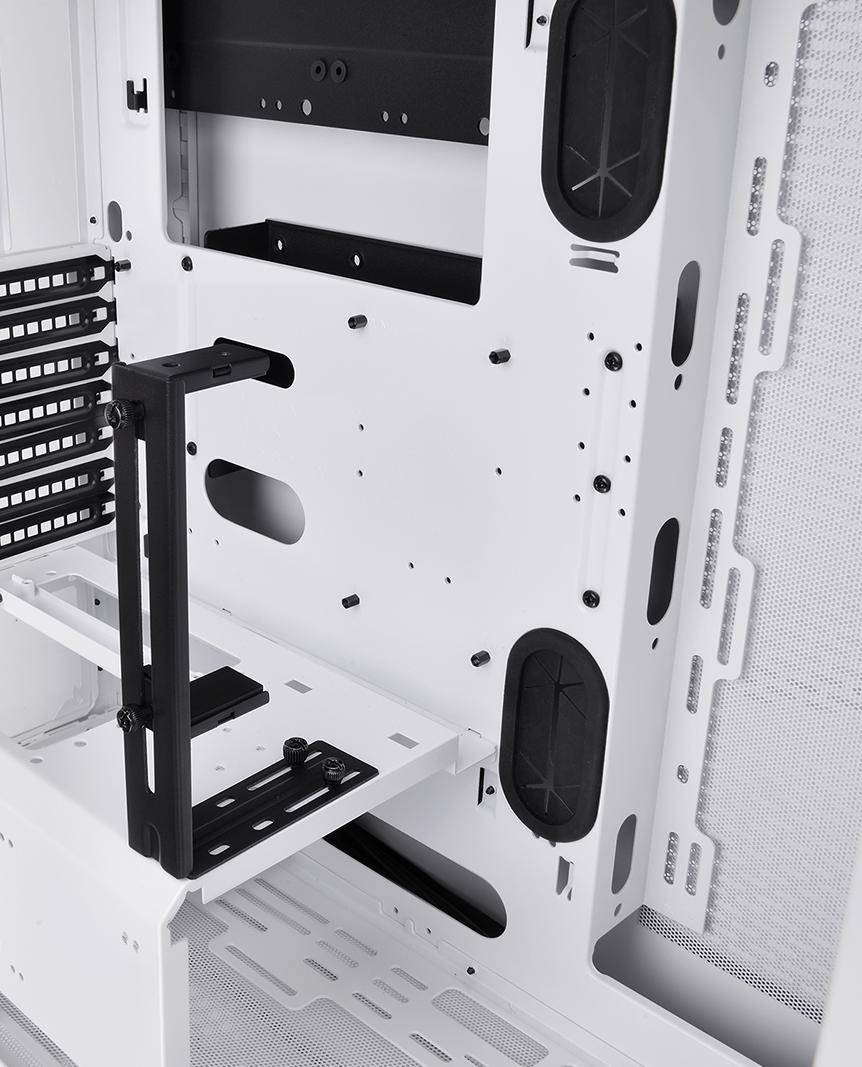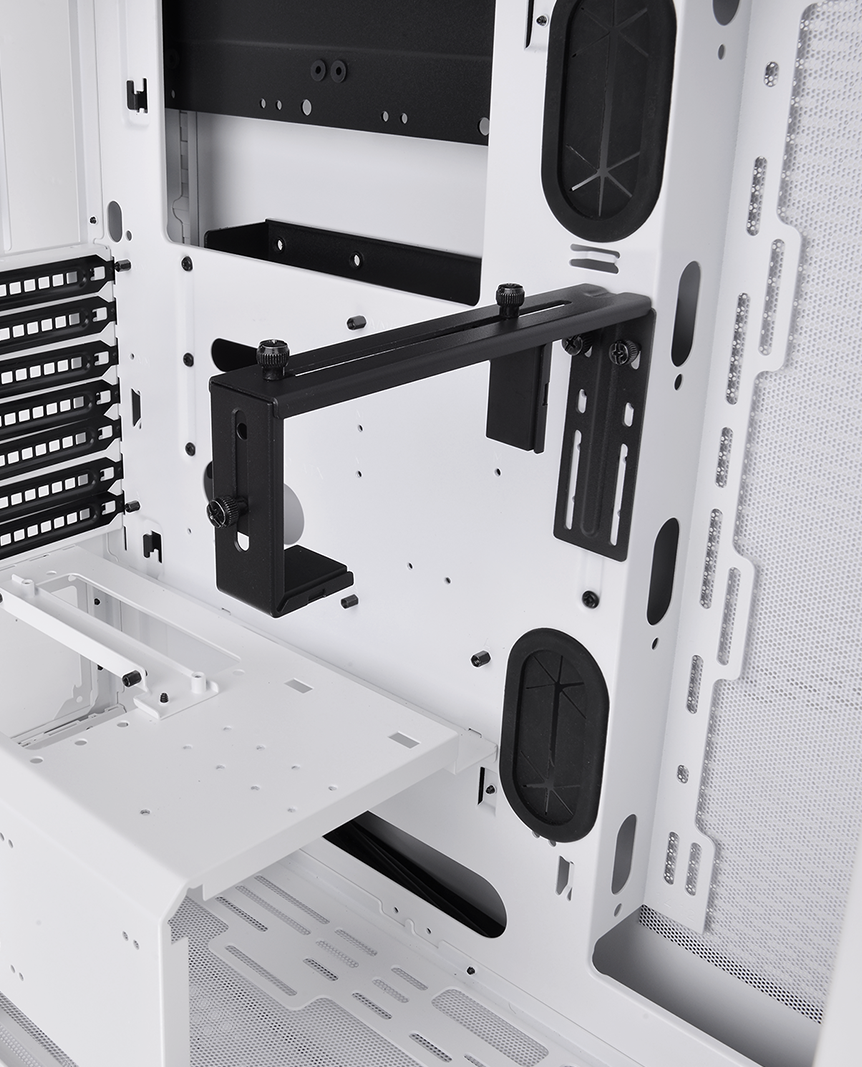 Dust Reduction
Three super fine magnetic filters on the right, top, and at the bottom are designed to provide excellent protection against dirt and dust from the outside of the case and is easily removable for cleaning.
Expansion and Liquid-Cooling Solution
The Core P6 TG Snow has excellent expandability which helps users build a complete thermal solution. It can support up to a CEB motherboard, a CPU cooler with a maximum height of 180mm, two-way VGA placements of up to 458mm in length (without radiator), a power supply with a length of up to 200mm, and up to eight 2.5" SSD or four 3.5" HDD. When it comes to cooling solutions, the Core P6 TG is optimized for air cooling and advanced AIO/DIY liquid cooling components as well. You can either house up to thirteen 120mm or eight 140mm fans in total. Additionally, the case can fit 360mm or 280mm radiators at the front, top, and right side of the motherboard. With the remarkable hardware expansion and liquid cooling support, the Core P6 TG Snow has endless possibilities for users to build their dream machine.

120mm
140mm
240mm
280mm

360mm

Handy I/O Ports
Two USB 3.0, two USB 2.0, and one USB 3.2 (Gen 2) Type C ports placed at the front-right panel to grant direct access when needed.
DMD – Dismantlable Modular Design
The Core P6 TG Snow enables users to freely build the system from the ground up with the given modular panels, racks, brackets, and pre-designed mounting arrays. No more unreachable screw corners or gaps and enjoy installation with a breeze with our Dismantlable Modular Design.
Built for Makers
By practicing and incorporating the idea of the "maker movement" as well as 3D printing, Thermaltake designed an open framed panoramic viewing chassis so that anyone can access and create his/her own mods as well as print out his/her own ideas by using available liquid cooling components and manuals without limitations.
Users can download 3D printing accessory files on the 3D Makers Microsite. Print them out to create a special mod.

Radiator Support List
Radiator Compatibility List
| | 120mm | 240mm | 360mm | 140mm | 280mm |
| --- | --- | --- | --- | --- | --- |
| Front | ● | ● | ● | ● | ● |
| Top | ● | ● | ● | ● | ● |
| Rear | ● | - | - | - | - |
| Right (M/B side) | ● | ● | ● | ● | ● |
| Bottom | ● | ● | - | - | - |
All-in-One Compatibility List
(Water 3.0 and Floe series)
| | 120 Series | 240 Series | 360 Series | 140 Series | 280 Series |
| --- | --- | --- | --- | --- | --- |
| Front | ● | ● | ● | ● | ● |
| Top | ● | ● | ● | ● | ● |
| Rear | ● | - | - | - | - |
| Right (M/B) Side | ● | ● | ● | ● | ● |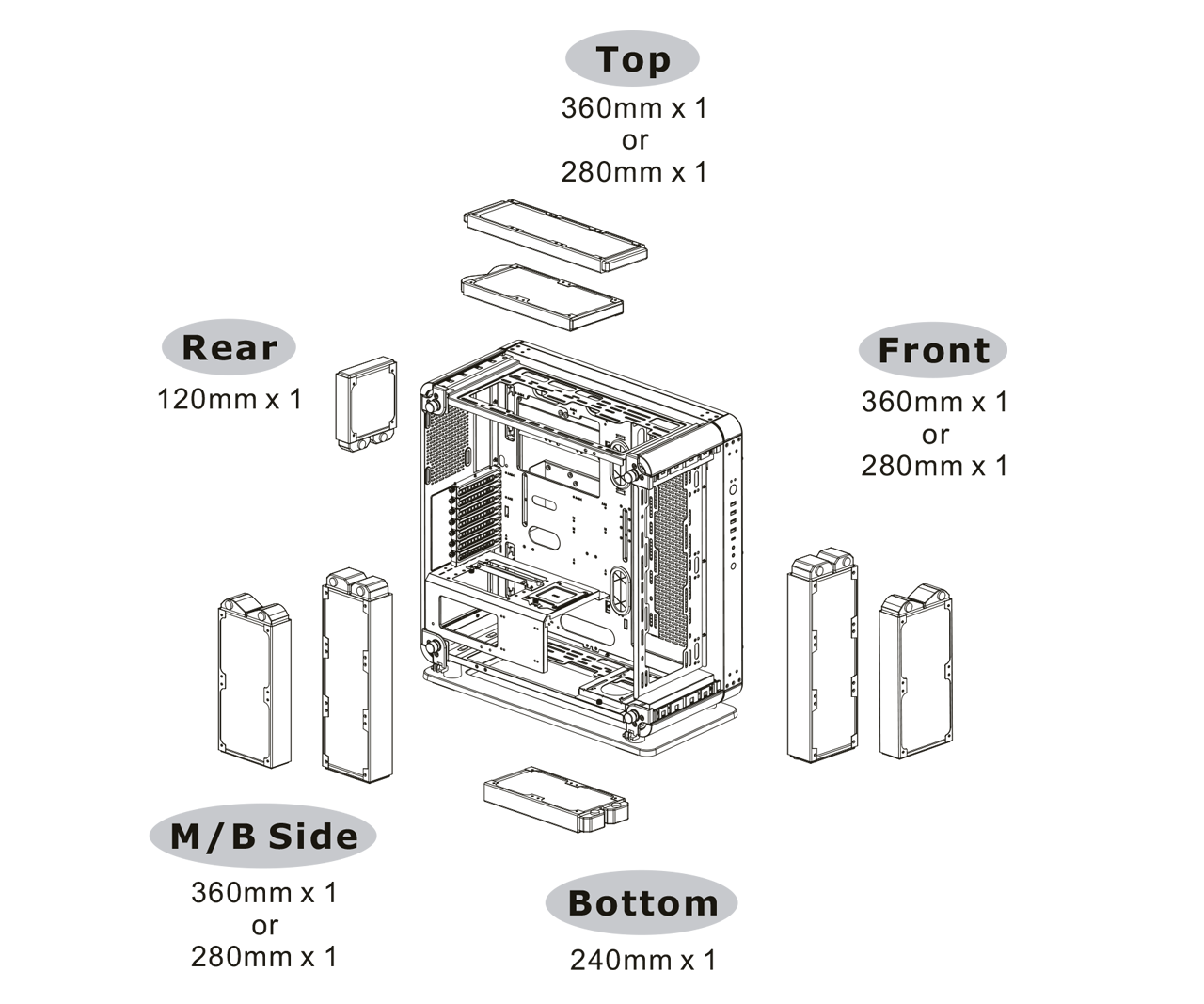 Fan Support List
Fan Compatibility List
| | 120mm | 140mm | 200mm |
| --- | --- | --- | --- |
| Front | 3 | 2 | - |
| Top | 3 | 2 | - |
| Rear | 1 | - | - |
| Right (M/B Side) | 3 | 2 | - |
| Bottom | 3 | 2 | - |
Thermaltake Compatible Fan
| | 120mm | 140mm | 200mm |
| --- | --- | --- | --- |
| PURE FAN Series | ● | ● | - |
| Riing FAN Series | ● | ● | - |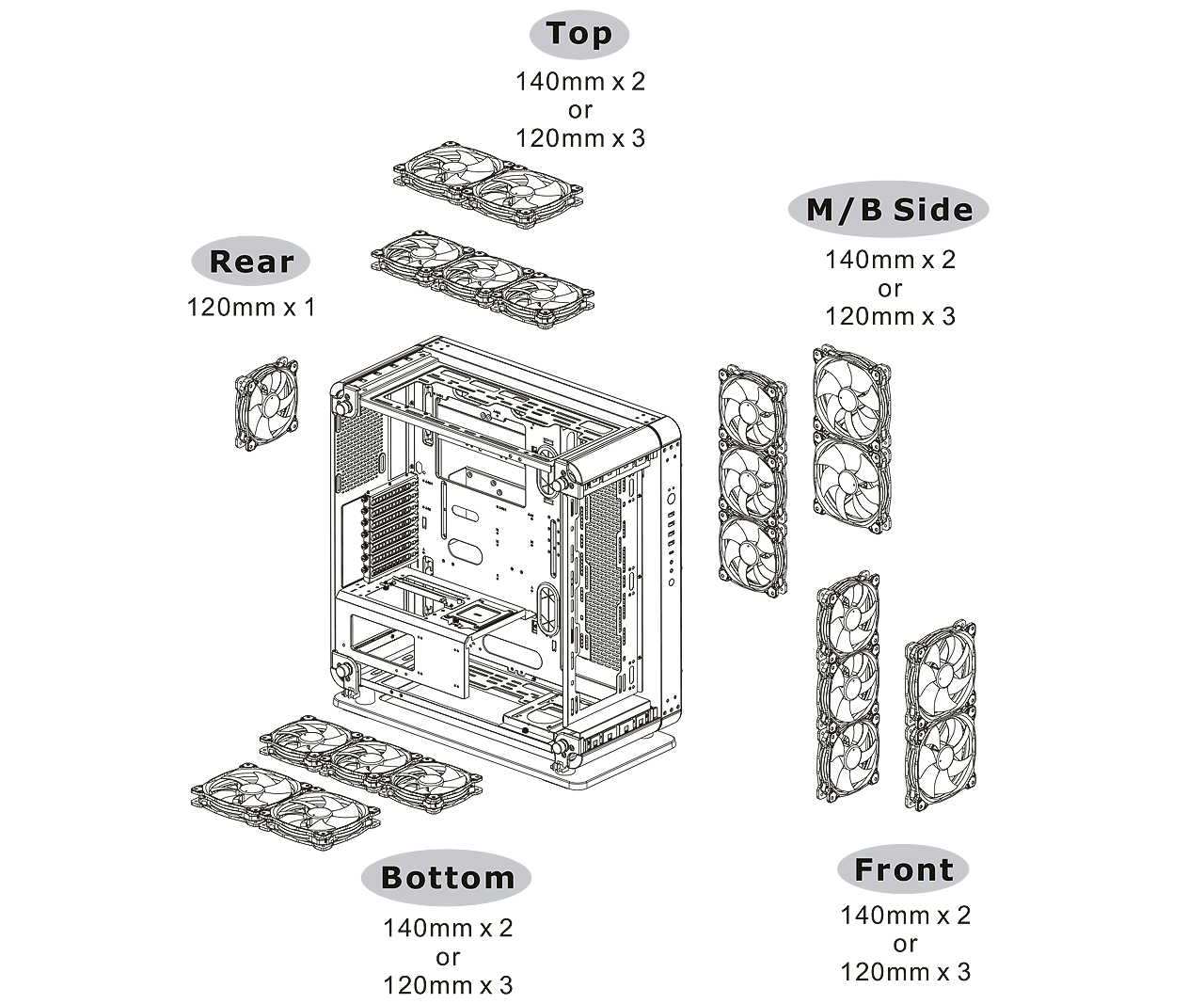 More Information
P/N
CA-1V2-00M6WN-00
Series
Core
Model
Core P6 TG Snow
Case Type
Mid Tower
Dimension (H x W x D)
565 x 255 x 530mm
(22.2 x 10 x 20.9 inch)
Net Weight
17.84 kg / 39.33 lbs.
Side Panel
4mm Tempered Glass x 3
Color
White
Material
SPCC
Cooling System
-
Drive Bays
-Accessible
-Hidden
4 x 3.5" or 8 x 2.5"
Expansion Slots
7 (Rotatable Patented Design)
Motherboards
6.7" x 6.7" (Mini ITX), 9.6" x 9.6" (Micro ATX),
12" x 9.6" (ATX), 12" x 10.5"(CEB)

I/O Port
USB 3.2 (Gen 2) Type-C x 1, USB 3.0 x 2, USB 2.0 x 2, HD Audio x 1
PSU
Standard PS2 PSU (optional)
Fan Support
Front:
3 x 120mm, 2 x 120mm, 1 x 120mm
2 x 140mm, 1 x 140mm
Top:
3 x 120mm, 2 x 120mm, 1 x 120mm
2 x 140mm, 1 x 140mm
Rear:
1 x 120mm
Right (M/B Side):
3 x 120mm, 2 x 120mm, 1 x 120mm
2 x 140mm, 1 x 140mm
Bottom:
3 x 120mm, 2 x 120mm or 1 x 120mm
2 x 140mm, 1 x 140mm
Radiator Support
Front:
1 x 360mm, 1 x 240mm, 1 x 120mm
1 x 280mm, 1 x 140mm
Top:
1 x 360mm, 1 x 240mm, 1 x 120mm
1 x 280mm, 1 x 140mm
Rear:
1 x 120mm
Right (M/B Side):
1 x 360mm, 1 x 240mm, 1 x 120mm
1 x 280mm, 1 x 140mm
Bottom:
1 x 240mm, 1 x 120mm

Clearance
CPU cooler height limitation:
180mm
VGA length limitation:
300mm (With Reservoir)
400mm (Without Reservoir)
430mm (With Radiator)
458mm (Without Radiator)
PSU length limitation:
200mm
User Manual
File Name
Description
Size
Version
Release Date